·
Ignoring CEL's since 86'
Discussion Starter
•
#1
•
I need help with the "turn signal mod".
I purchased depo projectors from a store. It came with a custom harness to convert since I have an 02 ep3.
This is a picture of the old turn signal connector (on the right) and the new one in my hand on the left.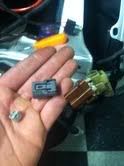 This is a picture of the wires from the stock turn signal after the connector was taken off:
This is the connector I was sent to install the wires into (picture of both sides):
***NOTE- I AM HORRIBLE WITH WIRING AND ELECTRICAL. It is my father who is an electrician doing this.
What he told me was the new connector that I was given has no metal clips and I cannot terminate the wiring.
I then wrote to the company and told them just that (with this all still being over my head)
they write back:
"for a clean install, what you gonna have to do is de-pin the stock turn signal and re-pin it into the connector I supplied.
here is an idea of how to do it:
http://www.honda-tech.com/showthread.php?t=2876493
"
Soooo I forward that to pops and he says:
"the connector he did send you has no pins and does not match the cars connector so you can't use the original pins"
I sent that back to the company and waiting on reply.
If anyone has done this pleaseeeee help me out my cars is all apart and has been for a while now with this little dilemma.
Cliff notes: Cant get turn signal mod to work for 02 ep3 depo projector install. Im frustrated. The mets suck this year :mcry: