1/5/2020 update! pictures on post #5 first page.
Engine blew 5/4/19 and car has been sitting awhile - getting ready to rebuild the engine now. Will be staying NA. parts list below, feel free to add input. Hoping to be around 300whp when finished - was at 221whp/162tq with stock k20a2 full boltons and tune before.
I have 0 experience pulling/rebuilding engines, so this is all new to me. Learning as I go, so hopefully I can inspire someone to show their old rsx some love!
Also turns out - the engine didn't actually blow - when I got it apart I realized a spark plug had just gotten blown apart. the top tip of it was bouncing around in the head as I could tell, and the bottom piece had dropped into the cylinder, found a small bit in the intake manifold and a small piece stuck to the top of the head by the valves.
Already determined/purchased:
k24a4 block honed to 87.5mm, stock sleeves, stock crankshaft
saenz s series rods
wiseco 12.5:1 pistons
4piston rr4 I believe cams
4piston modified k20 oil pump
4piston adjustable cam gears
4piston flywheel bolts
4piston 156 machined k20 head - ferrea valves, 4piston springs/retainers
to be determined to support the engine as it's built:
insane shafts axles/half shaft
ATI crank pulley
moroso baffled oil pan
mishimoto radiator
mishimoto fans/shroud
fuel pump - want to be able to run e85 in the future still researching
injectors - see above
new header/exhaust for k24 bottom end, looking at ktuned 3" option
intake manifold - still researching
intake - researching
mfactory lsd
tsx 6th gear
4.7 final drive
I'm sure I'm forgetting things - still researching as much as I can as I wait for parts to come in to start assembling the block.
Thanks for checking it out! stick around for more progress as we go! I'm hoping to be ready to track season in the spring
-------------------------------------------------------------------------------------
slowly building - 07 crew - supreme lurker status :shady: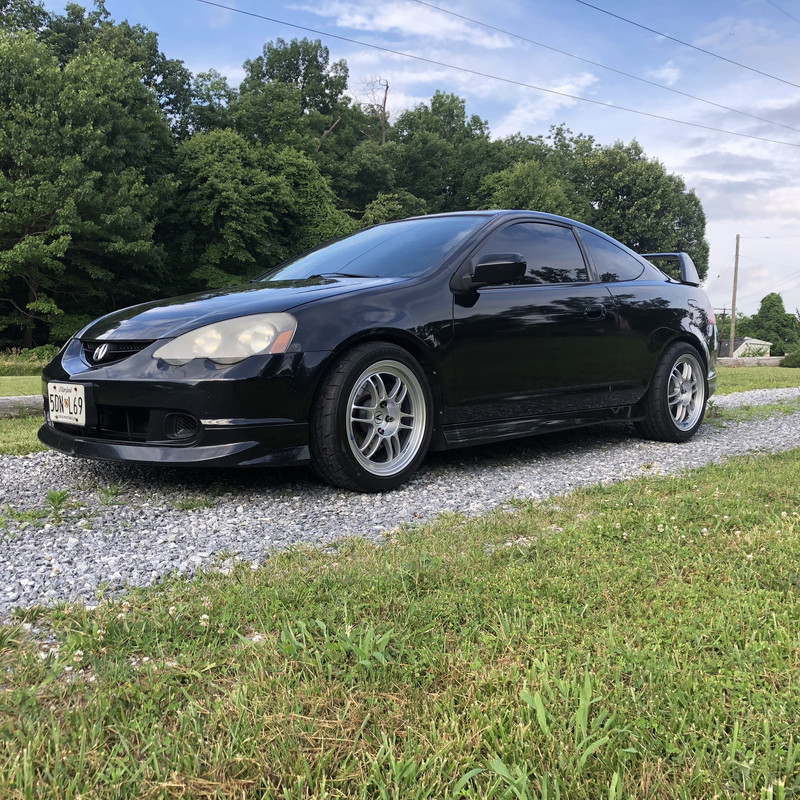 Intro:
Originally purchased with 28k mi with only aspec lip kit and uninstalled aspec suspension. Sold the suspension to a member here as I was not ready to modify yet.
Have been through a ton with the car, it stayed very close to stock for a long time. Probably never took good enough care of it, but learned a lot of maintenance basics over the years, enjoyed driving it, etc etc.
Eventually I purchased a DD (09 subaru legacy) and began toying with the RSX. Now she is at about 160k miles, and still going strong! I went to my first track events with SCCA this past fall and was hooked. pictures of track days scattered throughout!
Check back as I piece together any and all old photos I have and can find, document some of the car's past, and update things to come. This thing has had a ton of love, and a ton of inspiration from different members of this forum, dating back most prominantly to 2009-2012 ish

Thank you all for looking! And thank you to all the OGs for inspiring - coredump, spaz, cauqazn, jackie, thecolumbian, archull, krisen, dc5bo, so many more!
11 years, 130k miles later...
Mod List
Exterior
-Aspec lip kit - installed before purchase
-redout tails, blackout headlights
-brake ducts (still need to fab up ducting around CAI)
-Aspec OEM high wing
Interior
-05/06 cloth seats, front and rear
-red stitched cloth shift boot
-TSX shift knob
-Type R floor mats
-strut king pedals
Engine
-Injen CAI
-Invidia Q300 exhaust
-Invidia race header
-Innovative 75a motor mounts
-Kpro
-Ktuned CMC and slave cylinder
-Ktuned billet shift box and race spec shift cables
Suspension
-Progress coilovers
-Progress adjustable rear sway
-Cusco front tower bar
-Blackworks lower control arms
Brakes
-TL type S retrofitted front brembos
-Goodridge SS lines
-Stoptech slotted rotors
-Motul RBF600 brake fluid
-Hawk DTC30 brake pads
Wheels
-Enkei RPF1 17x8.5 +30 (clears brembos with no spacer, stock studs, 24mm clearance spoke to caliper)
-Firestone Firehawk 245/40/17
-Project Kics R40 lugs in neo chrome
to be installed
-RBC intake manifold with karcepts TB adapter
-retrofitted projector headlights from RsxRetrofits
-hondata intake manifold gasket
some recent stuff