So i took my car to Circuit city in santa barbara on August 7th around 11am to get My new Z2 navigation unit installed. I knew the guy who was goin to install my navi and i trusted him thats why i took it there.. otherwise i would have never gone there.. my friend actually did a very good clean job.
He finished it around 12:30pm, and left the set of keys on the counter while he works on another vehicle. An employee, 19 year old teenager, who was OFF the clock, asked about my car saying it was so nice and then decided to grab the keys without my friend knowing.. and take it for a joy ride on Hitchcock road the street that goes down Santa Barbara Auto Group (car dealersips), Jack in the box, and YMCA. One of my homies buddy who works at SBAG was walking on hitchcock road coming from his lunch break recognizes the car and calls that homie of mine, saying that "A kid has been racing up and down the street at 80mph, easy". While on the phone, the buddy then says, "Holy shit dude, he just wrecked the car!" I was at work at the time while my homie was trying to get a hold of me.. i couldnt pick up because i was working on a vehicle at Santa Barbara HONDA.. then suprisingly my girlfriend shows up out of no where crying her ass off telliing me something happened to my car but wouldnt tell me the details at the time.. she was too upset... well i left work on emergency.. and me n my girlfriend drove to circuit city to see what was up!
The Kid t-boned a jeep, and totaled the car. The jeep was in okay condition I guess, my car was all smashed in from the front, air bags deployed and frame bent.
When my homie got to the scene.. the driver straight up lied when my homie asked the driver, "what happened?". He responded, "Oh, I was just driving, and I hit a car." So in response, "Bullshit, my buddy saw the whole thing." Then he called the police.
Me my GF and some more friends arrive at the scene. Police shows up shortly thereafter. My GF bitches out the kid, lol. The kid responds with, "I can pay for it" (very cocky and nonchalant). Never said "Im sorry" or anything.
yeah, ironically, the kid drives a stock G35.
The kid was more like, "I can pay for it. I can pay it now if you want" (what an asshole.)
And My GF said, "you're not paying for one car, you're paying for TWO. And let me get this straight, you work for Circuit City and you have this kind of money? You're fucking retarded".
Funny thing is that MY GF took the whole accident a lot harder than Me. When she first heard it, she was crying, which lead to anger. I was more like bummed and pissed off.
The kid t-boned the jeep so hard, that you can see the tread marks of the jeep, 5 feet from its' path.
AND the kid did NOT have his license on him at the time.
So im pressing charges on the kid for sure, for Grand theft Auto and also Circuit City for "releasing" the car to some one else under their responsibility.
My friend took pics on his camera phone, thats all i can get right now. Powersteering pump, PS Rack, radiator, front sub frame, windshield, air bags, NEW cf hood (a month ago) all busted. More internal damages, but not seen in picture.
MY car went from this: :thumbsup::thumbsup::thumbsup::thumbsup: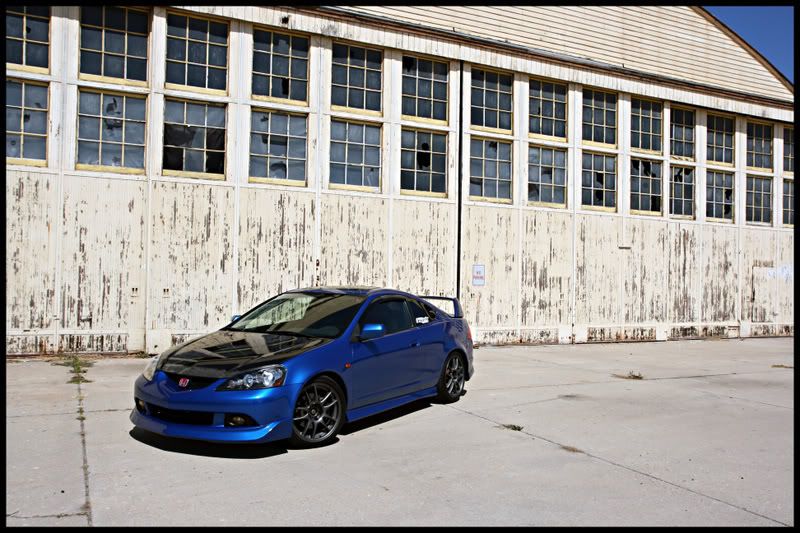 To This: :firemad::firemad::firemad::firemad: