·
Mercedes Benz w204 C350
Discussion Starter
•
#1
•
Here are some useful informations for going all motor on your A3. I am no guru I just wanted to start a useful thread for people wanting to go all motor on the a3. If you see any errors or would like to add something, please post it and I'll edit the first post! :thumbsup:
-Are Cams availabe?
Yes they are! The only companies that make cams for the a3 style head are Skunk2 and Brian Crower. Skunk2 has stage 1, stage 2, stage 3, and turbo cams. Brian Crower has stage 2 NA and FI, stage 3 which is NA.
skunk2
http://www.skunk2.com/engine-2.php?code=CSTK20A3
Brian Crower
http://briancrower.com/makes/honda/k20a3k24a.shtml
-What other parts do I need to run Cams?
You will need valve springs and retainers. Both skunk2 and Brian Crower has them.
You will also need Hondata Kpro. Although the Skunk2 stage 1 cams will run with stock ecu, it is recommended you have Hondata Kpro to take full advantage of the cams.
You will also need bigger injectors. You can opt for the K20a2 injectors(310cc) as well as the Acura RDX injectors (410cc). RC Engineering and Precision are the two companies that are most used with the k-series. Remember you need 12 ohm injectors.
-Will I be ok to rev higher?
This question is very debatable. Some have been successful revving the k20a3 to 8500. Some have not. With the right combination of oil (I use 15w 50) it is safe to rev the a3 bottom end that high. Do it at your own risk. If it blows up, it isn't anyone's fault but yours.
-How does the k20a3 head flow?
Honestly k20a3 head doesn't flow as well as the other k-series heads. The solution to this is a k24a1 head which flows very well. here is a graph that's been floating around that shows the flow of the k24a1 head vs k20a2 vs k24a2 head.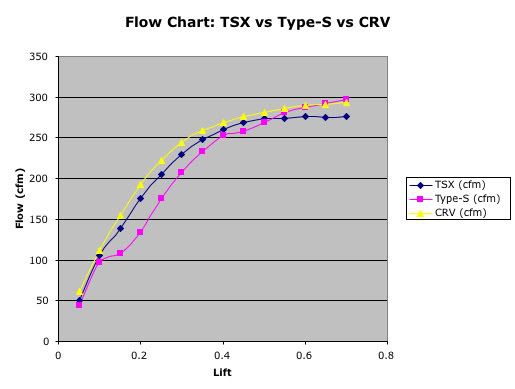 They still utilize the same style vtec as the k20a3 and will be a good match with the cams.
-What choice of intake manifolds do I have?
There are 2 choices for intake manifolds right now. The PRC which comes from the Type R and RBC which can be found in the 06 and up civic si. The RBC will require minor modifications to fit under the hood and a Karcepts adapter for the throttle body. The PRC will be a direct bolt on.
-What other parts should I buy?
If you buy cams, get yourself a raceheader. Cold Air Intake is also nice to have. And an exhaust.
-What precautions should I take?
Please and PLEASE PLEASE get your car dyno tuned if you can as soon as you are done with the install. If you can't, at least get it street tuned by someone who knows what they are doing.
When swapping k24a1 head and adding cams, please check to see for piston to valve contact. There has been 2 people that had this problem, and both time was k20a3 bottom end utilizing the k24a1 head. Both of these cases were with stage 3 cams. However, there are other people with stage 3 cams on k20a3 head that doesn't have this problem. In other words, clay your motor and check the clearance when swapping heads.
-Is it worth it?
Most people will say, it's not worth it and to just swap in a k20a2. But a few, will tell you that it's worth it. It's really up to you. Swap or cams, you will be faster than before :thumbsup:
-Where can I buy these parts?
You can buy almost all the parts you need on this site! clubep3.net's store!! If you don't find it here, there are plenty of other online parts store.