Got my Peakboost kit in the other day and this is the setup I am now running.
06' Acura RSX Type-S, Night Hawk Black Metalic, ebony interior
Engine:
Peakboost Turbo kit
T3/44 Sidemount stainless steel Turbo Manifold (Coated by HPC)
44mm Dumptube (Coated by HPC)
3' Stainless 2 pc downpipe w v-band (Coated by HPC)
Garrett GT3076 turbo (.82 AR, .60trim, S-cover)(Exhaust housing Coated by HPC)
Tial 44mm Wastegate
Tial 50mm Blow off valve
PWR 6' x 23.5' x 3' vertical flow intercooler core(total height is 12') (anodized black)
2.5' Aluminum chargepipe kit with PWR Silicon Couplers & t-bolt clamps (Piping powder coated black)
Steel braided oil/feed return lines
All installation hardware, gaskets, & heatwrap
K&N Intake filter
Besides these parts that came with the kit I am running the following:
-Hondata Kpro EMS
-GM 3bar map sensor
-GM boost control solenoid
-Peakboost Vac Block
-Billet battery tray
-Odyssey battery (model # PC680MJ)
-Innovative Motor Mounts
-CC stage 4 clutch
-Oil sandwich plate adapter
-hondata intake manifold gasket
-Thermal 3' exhaust
-NKG BKR9EIX plugs
-Walbro intank pump
-AEM fuel rail
-Aeromotive FPR
-RC 750cc injectors
--8an stainless fuel feed lines & -6an return lines all with Earls & Russel fittings
-Aeromotive 10 micron inline fuel filter
-RBC intake manifold
-P2R RBC adapter
Suspension:
-Tein Flex Coilovers with EDFC
-Ingals rear camber kit

Wheels & Tires:
-Volk Racing CE28N (18x8.5' +40mm offset in bronze)
-Nitto NT555 tires (225/40/18)
Other:
-DC5 JDM Type-R Recaro seats (black w/ red stiching front and rear)
-Xenon Depot 6000k HIDs
-20% window tint
-Custom Wrinkle Black Valvecover
- Mugen Oil Filler Cap
-Mugen Radiator Cap
-Type-r Dipstick
- EP3 Sparkplug cover
-EP3 AC line relocation
-Autometer Ultralite Full Sweep Electronic gauges (Oil Pressure & boost)
-Autometer RSX twin gauge pod color matched to interior
-Hawk pads all the way around
I know that I am forgetting some of the other stuff but this is what I remember off the top of my head.
Well, here are some of the pictures that I took of the kit so far, and I am going to take more in the time up to come and add pics as we build the car. I am not going to be able to do the install right away because of school and money. This project has about tapped me out and school and work leave me no time to work on the car.
I will be showing the progression of the project in the months to come. I plan on doing the fuel system and an RBC as my next moves on this project but they are going to have to wait.
Well, enough talk, here are the pics.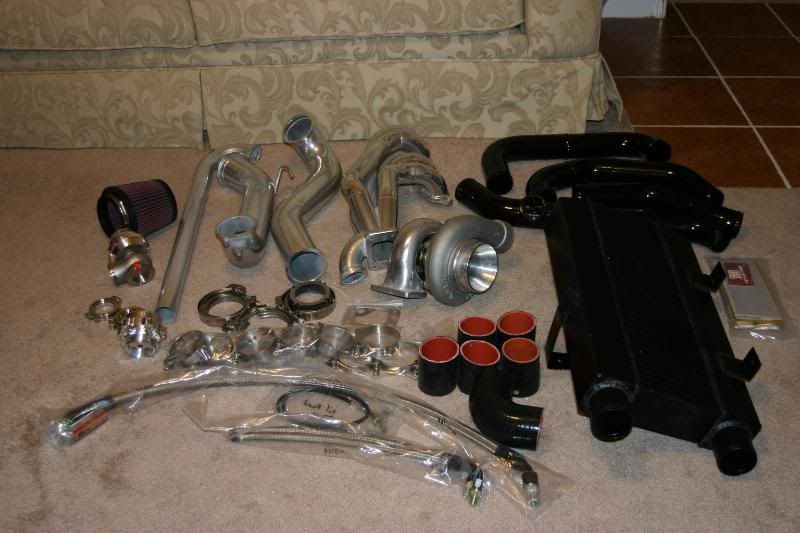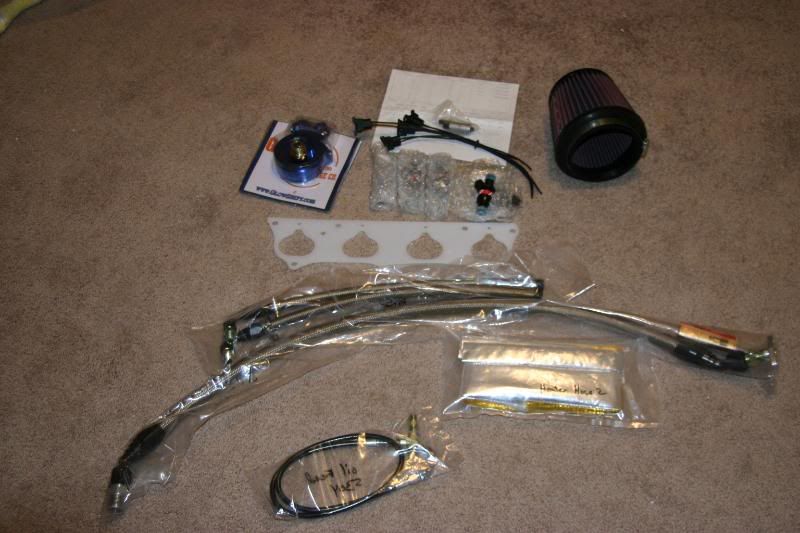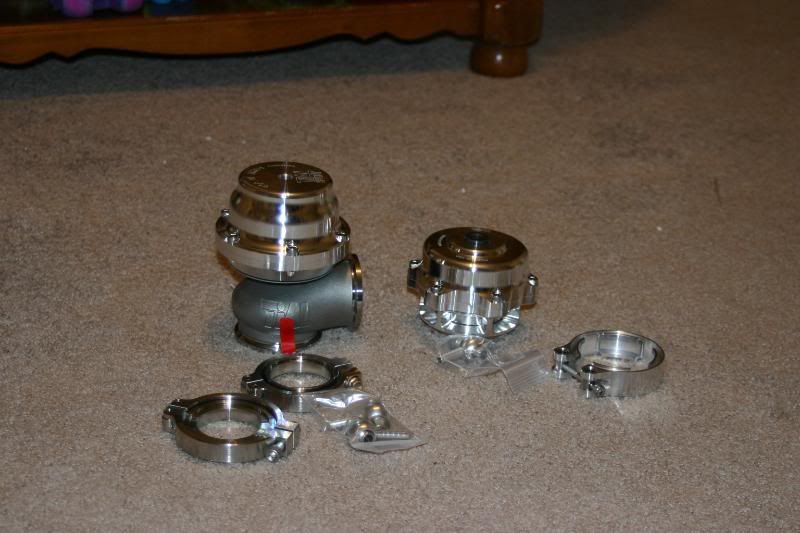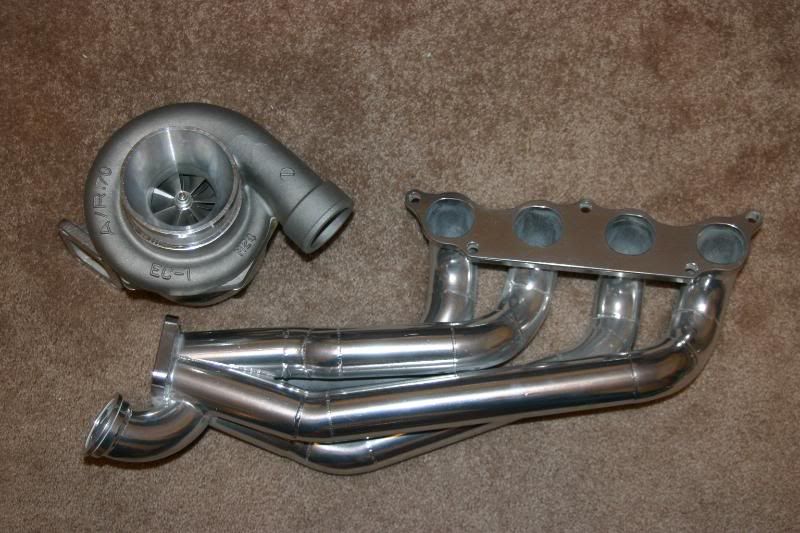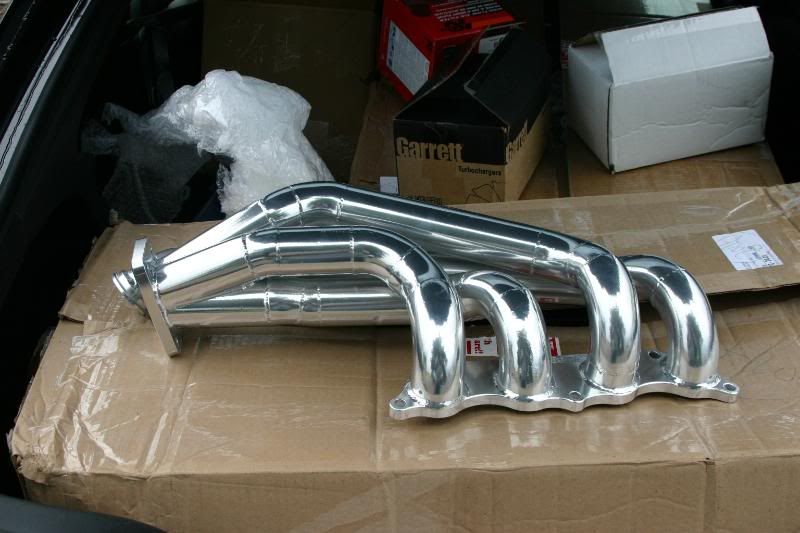 And the car its going on: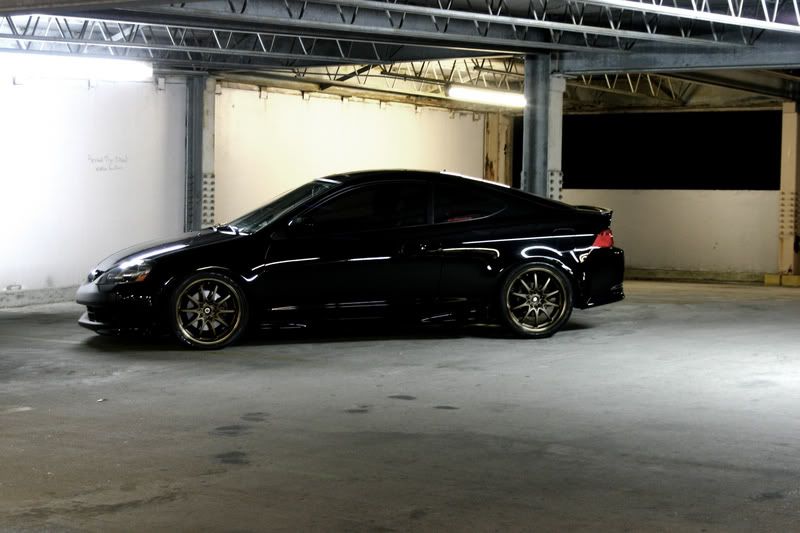 http://www.youtube.com/watch?v=ieW24rEcdAo