This is intended to be a one step thread for beginners to k-pro to get an idea. this will not include much advanced tuning, and will give the simplest ways to tune certain aspects but i may note when there is a more thorough way of doing something.
How to datalog
:
With your laptop connected to your ecu through the usb cord and k-manager open, click on the yellow lightning bolt, and red dot buttons at the top (they will be gray when not connected to the ecu.) i click record and the datalog button automatically starts, but everyone else seems to have to click both :dontknow: the two buttons are circled in this pic... *note* put your kal in open loop to datalog.

When you're done datalogging click the buttons again to stop. the best pull to do is a third gear pull from about 2,000rpm to whatever you have your redline set for. then click datalog at the top of the page and save the datalog under whatever folder you wish.
Using your datalog
:
Fuel adjustments
- with your kal pulled up, click on datalog and load, then click the datalog you wish to view. now click on tables, and click on the low cam or high cam button to pull up whichever one you wish. once you have it pulled up click on view at the top of the page, near the bottom it will say "normal" "lambda" "fuel adjustment" "target lambda" and "clear lambda values." the default is normal, if you click view, then click lamdba it will show what your air/fuel was at each column and rpm which you recorded...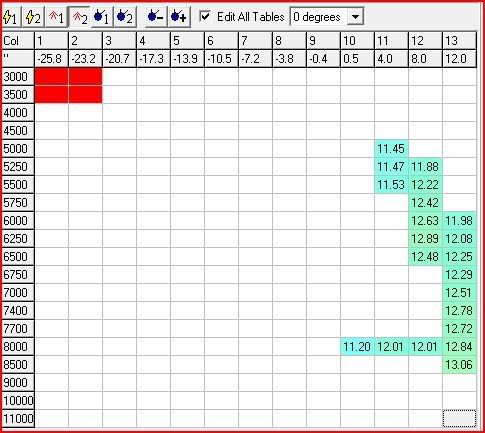 You can click on fuel adjustment and it will give you an idea of how much fuel to add or subtract in percent. positive value means you need to add about that much percent, a negative value means you need to reduce the fuel by about that percent.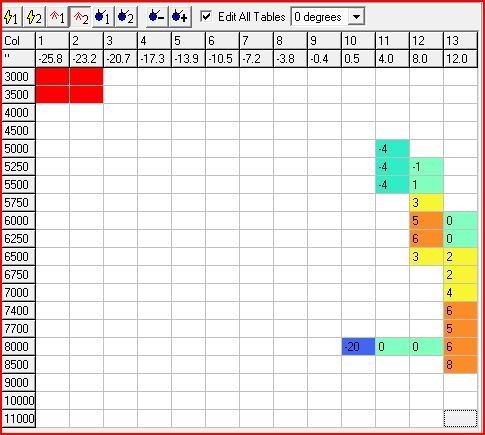 Here is the adjustment window with percent at the top, the second cell allows you to add units, and the bottom cell allows you to change the value to whatever you want.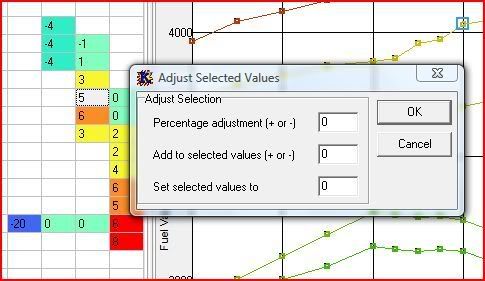 Here is what target lambda looks like. you can change these values so the fuel adjustment screen will be accurate to your desired a/f. to change these values click on options>settings, then click on the lambda overlay button in the window that pops up. it will have low load, medium load, and high load. the columns to the left are low, the central columns are medium load, and the columns to the right are high load. with an n/a kal you will only use low and medium.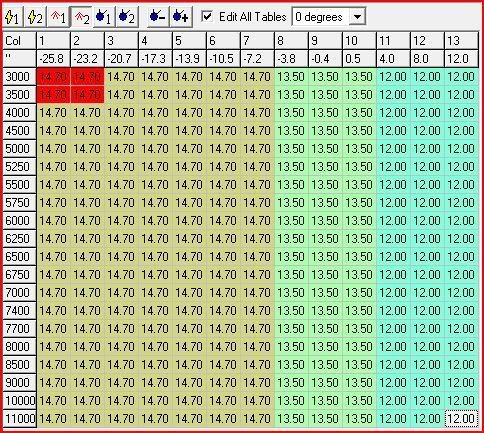 **note** when tuning certain columns/rpm, make sure to check what cam angle you are in when making your adjustments if you're not using edit all tables. i edit each table separately, but for just street tuning to get your a/f safe checking the box that says "edit all tables" works great. doing this keeps your fuel tables for the different cam angles parallel to each other when an adjustment is made. it won't hurt anything either since it's only possible to use 1/2 cam angles at any given cell. if you don't use the edit all cam angles box, make sure you're adjusting your fuel table or ignition table for the correct cam angle since you have a map for each cam angle. just click on the cam angle buttons to see what cam angle you're using for any given rpm/column. if your cam angle is at say 26, go ahead and make your adjustments on the 20 cam angle, and 30 cam angle.
READ
These pics are of the regular boost tables that read less than 16psi, for higher click on options, and "show 3bar tables" or 5bar. for naturally aspirated click on options and "show n/a tables" which only go through column 10. most likely you will only hit column 9 n/a, so don't worry if you don't hit column 10.
Once you've selected a cell (rpm x column, or an entire column) to adjust the fuel right click, click adjust and add/subtract the desired amount and datalog again. with fuel, percentage is easiest since that is what the fuel adjustment tells you. when adjusting fuel avoid large jumps or dips on the graph to the right. the 2d map is probably easier for most people to use to determine how parallel and linear the fuel curve is. so, try to keep the lines smooth.
Ignition
: for a beginner i would suggest not messing with ignition much other than to get rid of knock. it's basically impossible to tune for power without a dyno since you can't actually see if you made any gains. you can advance ignition to the point of losing power without hitting the knock threshold.
Getting rid of knock:
With your datalog open, click on the graph botton at the top. with the graph open, click on the graph to the far right. it will look something like this.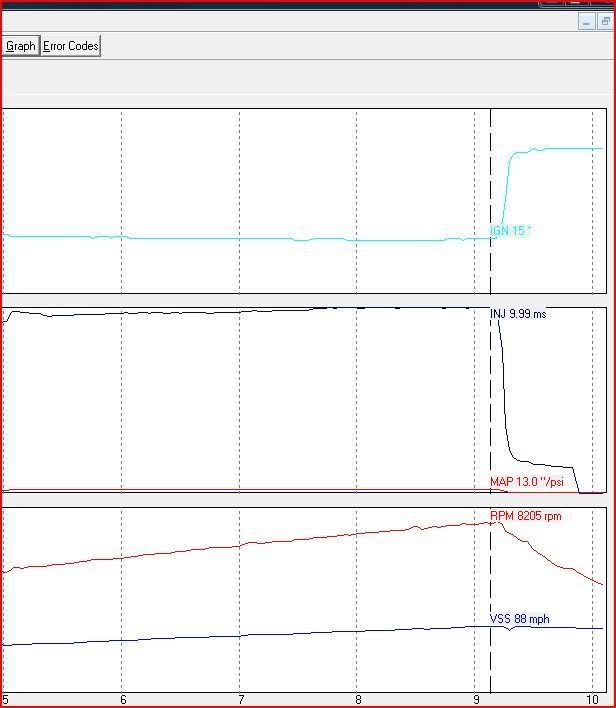 Once you've clicked on the graph click on sensors two buttons to the left of the graph button to find out if you had any knocks. this page will be mostly blank with two columns at the left. about halfway down the page it will say "k. count" in the left column, and the column to the right in the same row will show you how many knocks you had.

To isolate where your knocks were, look at where you clicked on the graph, and move to the left a few hundred rpm, or even a thousand on the graph, then look at the sensors view again. for example, the datalog from the user above had 4 knocks before 8,205 rpm. once i click on about 7,500 rpm in the graph, the sensors section shows only 3 knocks. so one of the knocks happened between 7,500 and 8,205. moving to the right in the graph in small increments i isolated that particular knock to 7,800 rpm. so i will decrease ignition in that area by a degree or two and find out if it eliminated the knock in the next datalog. you know which column to adjust by checking the fuel table to see what column you were in at that rpm. the closest rpm setting to this was 7,700 rpm and it was in column 13 at the time. there were 3 other knocks that also happened in column 13, so i ended up reducing ignition for this kal by, i believe, 2 degrees in column 13.
Adjusting ignition is the same as adjusting fuel, but instead of adjusting by percentage, use the "add to selected value" cell in the window once you've highlighted the correct cells and right clicked and clicked "adjust"
Lean cut
this is what a lean cut looks like on a datalog.
the first dip is just from me coasting, the spike right after that is where i started to give it throttle and it instantly went into lean cut. the reason i hit this lean cut was due to me setting the engine load setting too low. i set it for -1.0 psi at 14 a/f but i started hitting -.3 psi at about 2400rpm without even being quite at full throttle. the colder the air is the higher the map reading will be. for instance, during the summer i never saw above -.5psi at full throttle high rpm, but in december i started hitting close to column 10.
if you get a professional tune, i've noticed probably 90% of tuners WON'T set your lean cut. so if you want it set, you may need to do it. i find it easier to change the units beside engine load to psi as i have no concept for millibar(mbar) or kilopascal(kPa) a lot of people will experience a lean area or even lean cut around vtec engagement. if this happens the first thing you want to do is add fuel before and after vtec on the low cam, and do the same for the high cam. with supercharged setups one of the easiest things to do is lower the vtec point to somewhere between 3,000 and 3,500 which are fairly good points with the supercharged setup anyway.
Temperature Compensation
under parameters you will find a tab labeled "temp compensation" when you click it, a table like this shows up...
The first thing you want to do is change the temperature range to temperatures you will see. most of the kals go from a range of something like -22 up to 208 or something similar. i personally wouldn't be driving anywhere if the temperatures were close to either of those extremes to put your iat around that. as you can see, my table goes as low as -9 (for some reason it won't take -10 :dontknow: ) and up to 150. i never see below zero here, really normally not even below 10, but you want a little room for error. i also don't ever see iat's a higher than probably around 120, but saw as high as 140 with a short ram on a day i believe was around 105 or so. so in my opinion it's best to leave a margin for error of about 20 degrees or so in both directions.
if you leave the cells too far apart your fuel won't effectively be compensated, though they do interpolate. the general rule of thumb is to add 1% fuel per 10 degrees lower, or vice versa with getting hotter. for example, in the high load section i have my center cell for 85 degrees because it is a common temperature for me, then looking at the next cell to the left i have it set for +5. that 35 degree cell will add 5% fuel from 35 degrees and up. so, if the temperature is say 65, it may run a little rich, but that is better than adding 2% with 40 degrees out and running lean. so if your second cell is 50 degrees below your center cell, you want to add 5, or if they are 40 degrees apart, enter 4. for the low load tables i tend to only adjust by half of what i used in high load, and if it's not a whole number (example 4.5) i will round up by the half degree.
Random:
it's usually best just to stick with the oem replacement denso o2 sensors.
this thread will be treated as a living document and can be changed for any outdated information, for any input as seen fit or any errors.
other materials
:
i found the thread that i originally read about a/f from a few years ago and i can't in good conscience leave it out of this thread since they are related and it helped me when i first got k-pro.
sik lil playa's thread on a/f
http://forums.clubrsx.com/showthread.php?t=274704
Also check out this thread for other explanation on K-pro etc.
K-pro beginners guide
K-pro Tuners Guide for anyone not comfortable tuning themselves
K-pro Tuners guide