Discussion Starter
·
#1
·
The Story: We're a high school in BC Canada that participates in high school drag racing (British Columbia Secondary School Motorsport Association). Right now every single other team except 1 is running a small block chevy (the other one is running a 5.0). So we want to do something different, I used to drag race my civic (h22 ek on nitrous) and somebody donated an RSX to the shop, so Honda it is!
WHY AUTOMATIC!!??!!??: A few reasons. First off we're only aiming for 12's which I think the auto can handle. Also, don't want to try to train students to preload properly so they don't blow diff's and axles everywhere. And it's bracket racing that we actually want to win, so we need the consistency of the auto. So NO FLAMES please, we're going to try it and report back on if the auto trans can actually do it!
Rationale: We're only allowed to run 12's in high school drag racing, so not shooting for the moon here. Going to lighten the crap out of it, engine swap, and basic turbo setup. Probably just drag radials so there isn't too much stress on the trans. And since it's a high school car we can do things I would never do to my own car like put the exhaust out the hood . But everything needs to be on a BUDGET! We're making money as fast as we can, but that's still pretty slow...
Car: '02 RSX Base Auto
Engine: was base RSX K20A3, already found an 08 TSX K24A2 that we're working on swapping in.
ECU: Probably going to go ktuner ecu since it sounds like it will be able to run the auto too! Should be interesting figuring out the harness though, 02 harness, 05 ecu, 08 engine...
Trans: Already have a big trans cooler that is going to be installed once the swap is done. Also going to run synthetic ATF. Otherwise leaving stock for now. Eventually probably going to get a higher stall torque converter and some beefed up internals if we can get the money/sponsorship to do it. I'm hoping somebody like IPT might want to sponsor us eventually ??!!
Horsepower plans: Trying to not open up the engine. Making our own turbo manifold for a Holset H1C (I know not the best, but it's better than nothing!). Might eventually upgrade the turbo. Air/water intercooler, upgraded injectors, drag radials, all the basics.
SPONSORSHIP: We are always looking for sponsors! It goes to a good cause (consider it an educational discount!) and you'll get good publicity out of it. We have build threads going on multiple websites, a Facebook page, and an Instagram account. As well, this car will be getting some local media down the road once its getting closer to completion. For now we're sticking with the stock paint, but once it's turbo'd we already have a sponsor for doing a full vinyl wrap including sponsors logos (size dependent on sponsorship). In the meantime I have my own vinyl cutter so sponsor names will still be showcased. We will also do up review and install videos for youtube/facebook/instagram for any products donated. We can always use cash, but also need parts! Currently our highest priority is an ECU, but other things like trans upgrades, wheels/tires, turbo, wastegates, bov, air/water intercooler, injectors, lightweight seats, gauges, etc would be much appreciated!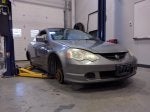 How she looks so far.
We'll post updates as they come, but the drag racing club only meets twice a week. Thanks for looking!