Purchased: 2009
2005 Type-S
One previous owner: ~77,000KM
UPGRADE:
2006 v2 AP2!
Other:
First Bike: NHBP 2011 CBR
Exterior / Aesthetics:
JDM Side Markers - Amber
JDM Door Visors
JDM ITR k20 Dipstick
JDM Ignition Coil Cover
JDM Integra Door Sills
JDM Integra Type-S badged
Mugen Front/Rear lip
Mugen Side Skirts
Mugen Sidemarker badges
Mugen Oil Cap
Mugen Reservoir Socks
Tinted Windows
6,000K HID
Tow Hook - eBay
Halo Projectors
TSX Projector Retrofit
BMW e46 Shrouds
Fog lights - Custom NHBP Trim
RSX Hood Bra
LED Exterior Bulbs
Suspension / Wheels / Brakes
TEIN S-TECH Springs
Work Emotion CR-Kai 17x7 +45
Project Kics - 25mm wheel spacers
Muteki 1008 Steel Lugs
TEIN Super Street Coilovers
Enkei NT03+M 18x8.5 +38
Enkei Center Caps
Enkei Valve-stems
Kumho Ecsta LE Sports 225/35/R18
Muteki SR48 Chrome Vanadium Lugs
Muteki SR48 Locking Lugs
Brembo Retrofit
PICS PAGE: 5
Brembo Carbon Ceramic Pads
StopTech slotted rotors
Ingalls Rear Camber Kit: Rubber
Ingalls Front Camber bolts
Mugen Strut Tower Bar
Interior:
Bride Shiftboot
Bride Door Inserts
JDM ITR Titanium Shift Knob
Strut King Race Pedals
Strut King Deadrest
Strut King Shiftboot Adapter
Wink Mirror - Custom Decal
LED Interior Lighting - White
Performance
Password JDM Carbon Fiber Power Chamber - Whale penis
Password JDM Battery Relocate
Odyssey PC680 Battery
Hybrid Racing Cable Bushings
Exedy Stage 1 Clutch
To-do list:
TEIN Hood Dampers
iPhone Connectivity
Hondata K-Pro
Mugen Twinloop Exhaust
RBC Intake Manifold / Hondata Gasket
Videos
Last of 2011 before storage:
http://vimeo.com/30468992
Pictures on pretty much every page. Enjoy:
Taken at Honda Tech 8, Canada's largest Honda/Acura meet. Credit goes to the Teknotik photographers: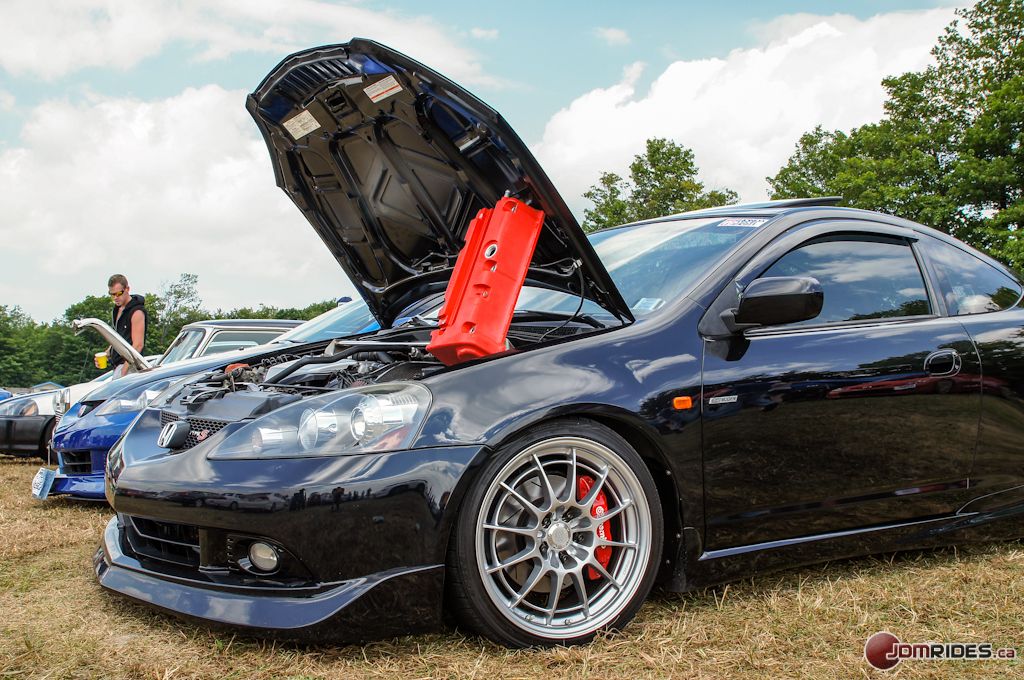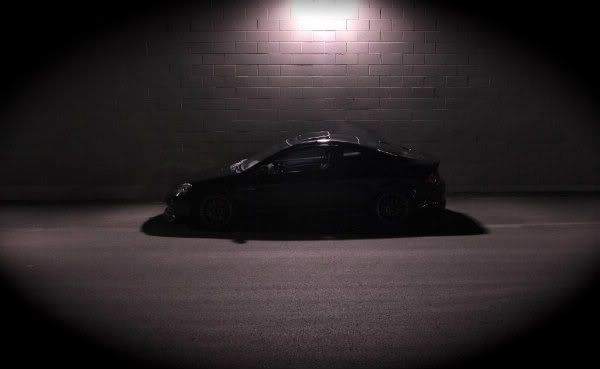 Missed some wax under the passenger headlight...