·
1 of few active members..
I've had the car for a while but I've finally got to the point where I feel I can do a show off. I first bought the car back in 2014, while I was away Pea combining, searched for two months before I found the RSX I wanted. It was nothing close to stock but not to any extent of where I couldn't go any further.
Pictures of the day I bought it.
The modifcations as it sits right now:
Exterior
Milano red Paint job(done in 2014)
2006 Front & Rear conversion
10k hid low beams, and led reverse
Seibon CF hood
Mugen front Bumper
Mugen rear lip
Carbon fiber Trunk & carbon type r Spoiler
Carbon fiber wrapped roof
25mm front wheel spacers & 30mm in the rear
ITR Rims wrapped with Toyo Proxies
JDM Window visors
JDM Rear Foglight
EM2 Fogs custom fitted
10% tint all the way around
Interior
Kenwood DDX419 double din
2006 RSX cluster swap
ITR red door inserts
Painted black a-pilllars, and roof
Led Interior lights
Mugen Foot pedals(Not installed)
Engine, fuel management, transmission & Drive train
2008 K24a2 run on Kpro v4
2002 k20a2 tranny
RBC Intake manifold
Karcepts adapter
Stock type s throttle body
CC Stage 1.5 clutch
Exedy HF02 Flywheel
Yonaka Stage 2 Axels
DC5R Aluminum Lower control arms(Not Yet Installed)
Slotted and cross drilled brakes + Cermaic pads
Stock callipers powder coated red
Injen CAI
PLM 4-2-1 Race header
Yonaka Cat-Back Exhaust
Hardrace Motor Mounts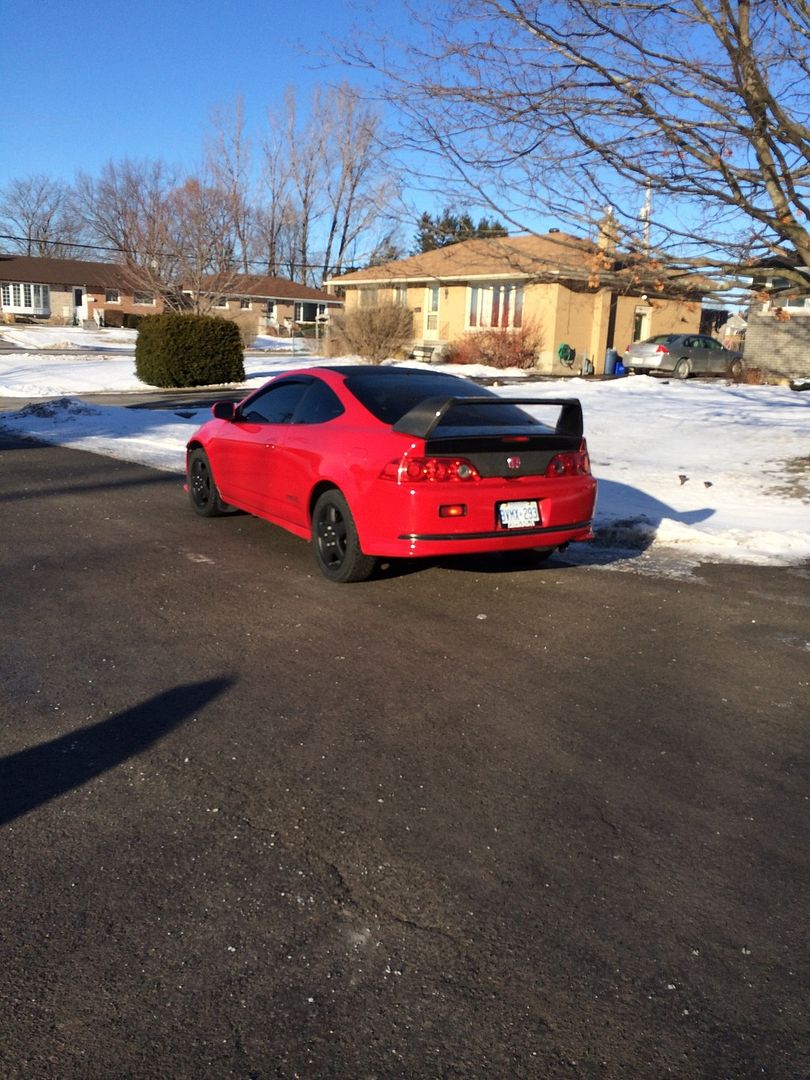 I got bored of the old rims and picked up some new ones:fistbump: take some guesses.......
You guessed right:giggity: ITR DC5 rims in really good shape with brand new toyo proxies :love . Decided to give them a test fit to see what theyd look like.
Was loving the look but figured theyd look better in black so I dipped them. Instantly had no regrets as they looked great!!
Then after pulling it out for the summer took some pics, all recent.