·
Meth Blow Speed = my life
View attachment 305728
Want to save on gas! This will guarantee the best tune possible for your car. If you understand the basics of fuel tuning and just CANT get the tune perfect...this is your help!
This is the program that I have used (I found it almost 2 years ago when I first started messing around with K-Pro) and it will allow you to tune your partial throttle exactly where you want it in less than an hour.
If you are supercharged your cruise cam angle should be 25 degrees.
If you are N/A it will be 30 degrees and turbo it will be slightly different. This write up tells you how to tune for a cam angle that is not in an interval of 10. When you choose a cam angle besides 10, 20, 30, etc. like 25 (for example), K-pro will use your fuel values from both the 20 and the 30 degree cam angle to interpolate the data. It is impossible to tune for the 25 degree cam angle with this program, so you have to datalog BOTH the 20 and 30 degree cam angle to get exact values for 25.
Steps for use
1. Save your current calibration. Make sure your target A/F for "low load" is around 14.8 for a good efficient tune.
2. Save another copy of the calibration and name it "20 cam angle"
3. On the "20 cam angle" calibration change EVERY cam angle on the LOW CAM calibration to 20 degrees. Your low cam map should look like this...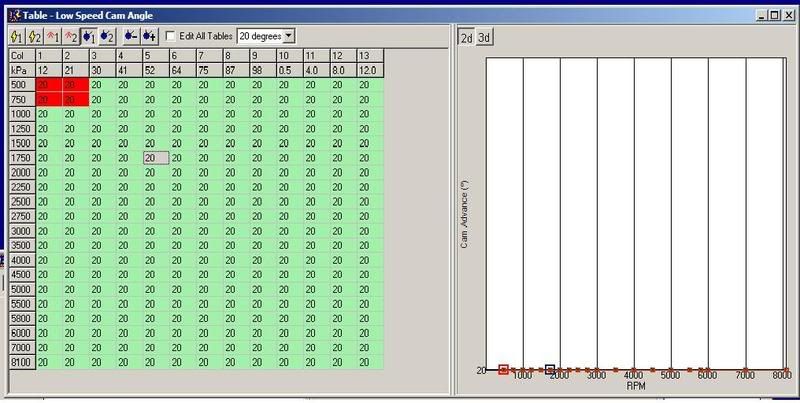 4. Switch from closed loop to OPEN loop
5. Load the "20 cam angle" calibration to your car
6. Start car and begin datalog
7. Drive around for AT LEAST 30 minutes (this is where a power converter or a VERY long battery laptop is needed). Try and vary your driving style during the datalog to get a FULL spread of data. The longer you drive the more data you will collect and the more spread the data will be giving you better results.
8. Save datalog (name it something like "20 cam angle") and close the datalog in K-Pro (you cant have 2 programs using the datalog at once)
9. Open KAutoFuel then open the datalog. You should see a graph on the right hand side
10. Make sure the VTC angle is on the correct cam angle for that datalog or nothing will show up. The blue plane is your target and the red is your Actual!
11. These numbers represent the % change of fuel needed. From my experience they are almost EXACTLY dead on. For safety when it says to REMOVE fuel I usually remove a little less and when it says to add fuel I add a little more.
12. Open your ORIGINAL calibration and make the appropriate changes to your calibration. MAKE SURE if you are doing the 20 degree cam angle you actually make changes to the 20 DEGREE CAM ANGLE. The columns are labeled by kPA but you can just count column 1, 2, 3, in order from right to left if you want.
EXAMPLE - in my picture above I have highlighted column 6 at 3000rpm I need to remove 13% fuel. I would go to my original calibration, select the 20 degree cam angle and in column 6 at 3000rpm I would remove 11 or 12% since I want to be on the safe side. Continue with each square on the program. After you have done all of the changes switch to K-Pro and in the 2D view of your fuel map, CHECK FOR PEAKS OR DIPS in the lines. These lines need to be as smooth as possible and once you have an idea on where the "general line" of your tune is...you can move peaks back in line with the rest of the points.
13. REPEAT STEPS 2-12 except change every cam angle to 30.
14. Once 20 and 30 cam angles are fully tuned, set the cam angle on your original calibration for cruise to 25 and YOUR SET! Watch a beautiful A/F of 14.7 (or VERY CLOSE) through all your cruising.
15. There is talk about different cam angles being more fuel efficient than others so if you would like to try them out go for it. The reason I had to datalog both the 20 and the 30 degree cam angle is because 25 degrees is an interpolated number between 20 and 30 in K-Pro. It is impossible to tune for JUST the 25 degree cam angle by itself. If your best fuel economy is on the 30 degree cam angle then you only need to tune that ONE cam angle. I am supercharged so 25 degrees has been found to be the most efficient.