People have been asking for my version of the fuel return so here it is:
So today even though I'm busted up from surgery I decided I would finally finish my fuel system. I had pretty much been done and just awaiting some new parts from Hybrid Racing.
There are a lot of parts involved in doing a full fuel system with return line. This process is not cheap. I've seen people spend up to $1k in just their fuel setup. I believe I spent almost $600 myself. Here are some of the parts.. I know I'll be missing some misc…
After Market Fuel Rail
Fuel Pressure Gauge
Fuel Pressure Regulator
Inline Fuel Filter
Aftermarket Fuel Pump
30ft -6an Fuel Line
3/8" and 5/16" submersible fuel hose
lots of AN fittings (I'll explain all I used in the DIY steps)
Hose clamps
Zip Ties
Here is what I can remember for the fittings I used...
Straight -6an fittings [4 Total]
-Pump (1x)
-Filter (2x)
-FPR (1X)
45* -6an fittings [2 total]
-Rail (1x)
-FPR (1x)
90* -6an fittings [1 total]
-Rail (1x)
-10an to -6an adapter [2 total]
-Filter (2x)
-8an to -6an adapters [4 total]
-Rail (2x)
-FPR (2x)
90* male to male fitting [1 total]
-pump (1x)
-6an to 3/8th nipple [1 total]
-pump (1x)
-6an plug [1 total]
-FPR (1x)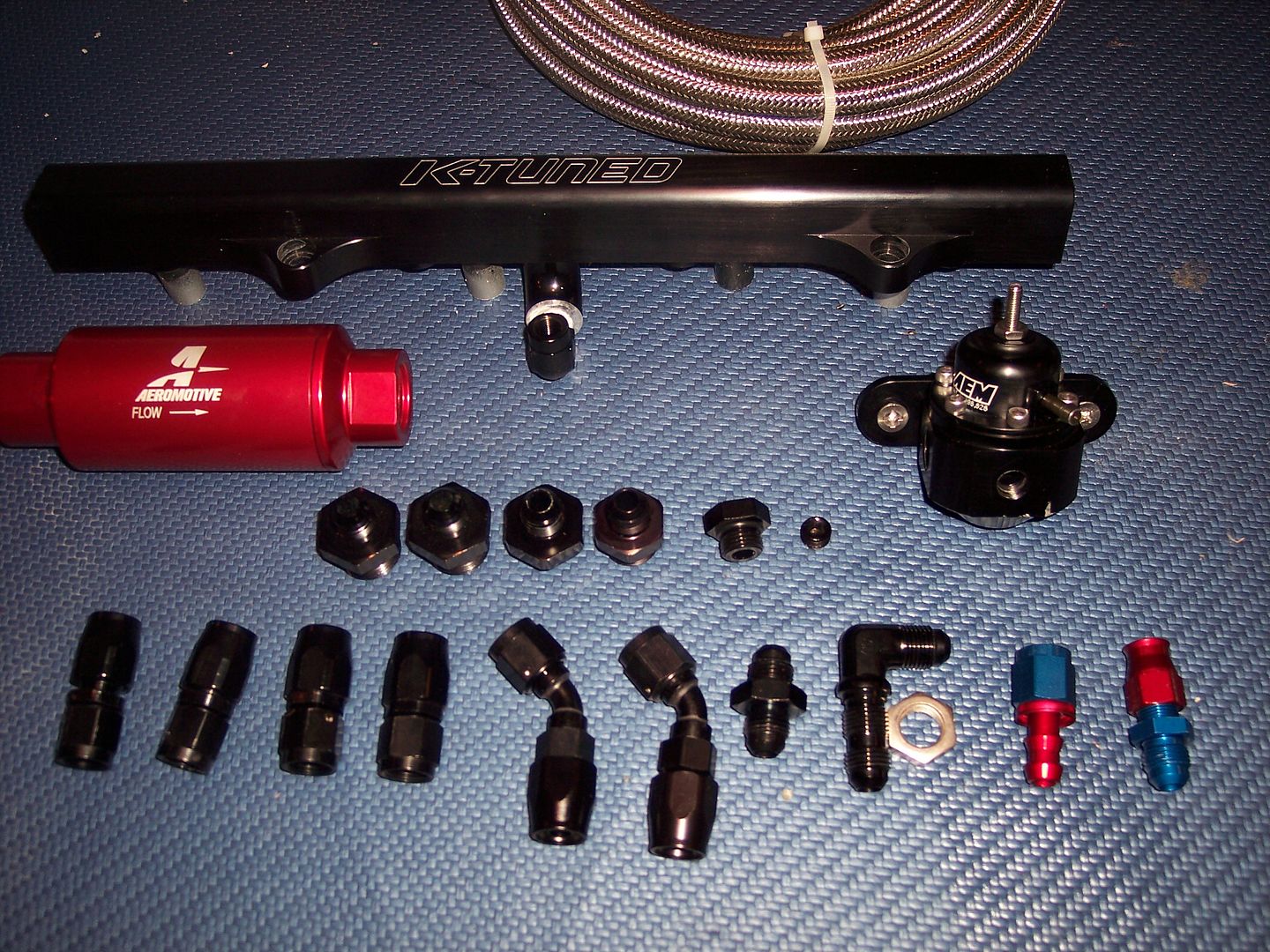 So lets get started…. The first thing you need to do is install your new fuel pump. I already have a DIY on installing a pump without a return. So start with this DIY to take out the pump and modify the cage
http://forums.clubrsx.com/showthread.php?t=738511
Now lets start the new process!
So I started my new fuel setup today.
Basically I pulled the pump back out. I already had a 255lb pump installed. But now I'm adding a new feed and return setup. So first I dismantled the fuel pump assembly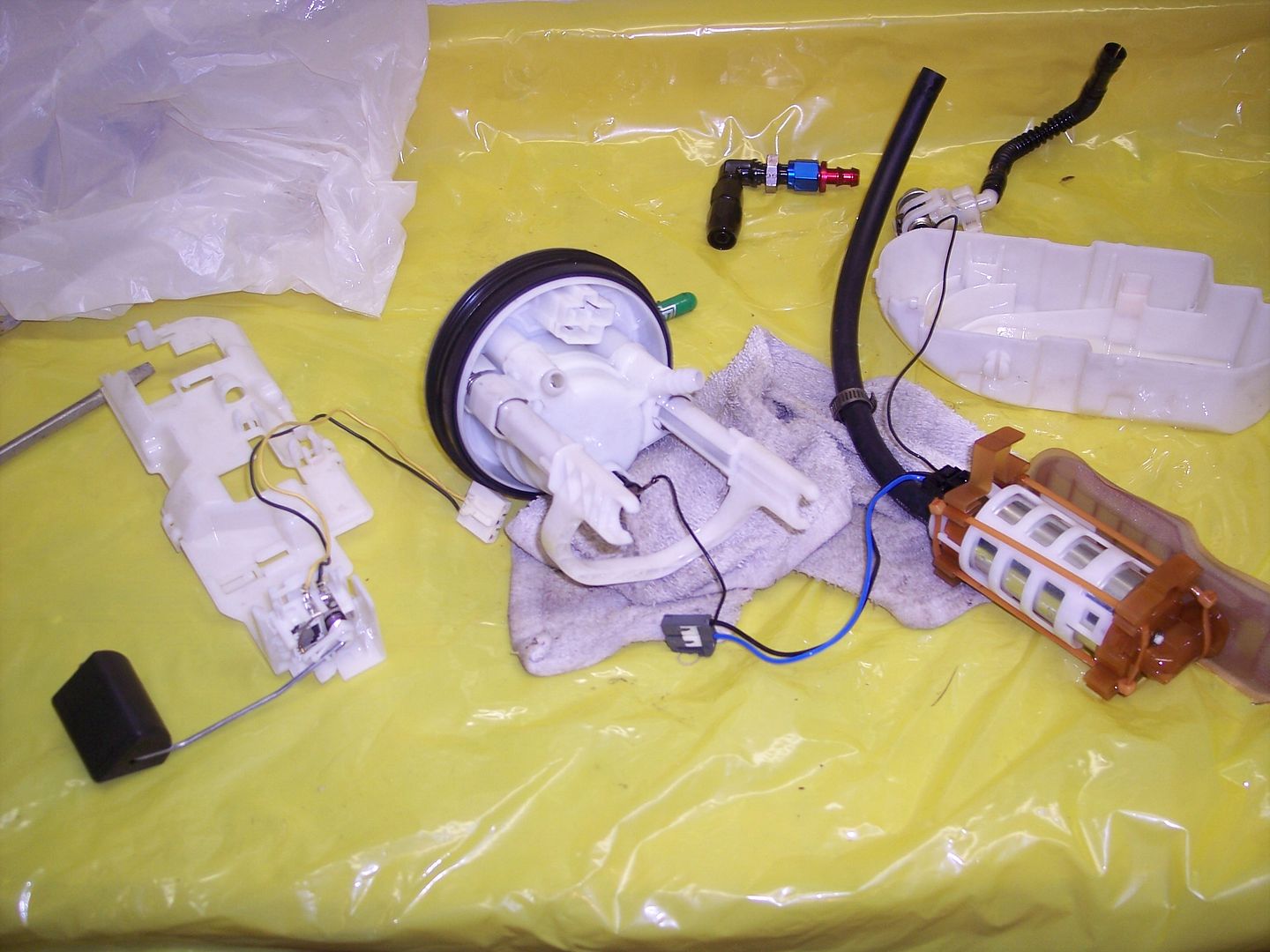 Then I went and place the nut on the bottom where I will be drilling. You will need this nut. You will also need a 90* male to male 6an fitting to go through the pump. Also I used a 6an to 3/8" barb fitting inside the pump. You can see the fittings in the picture above.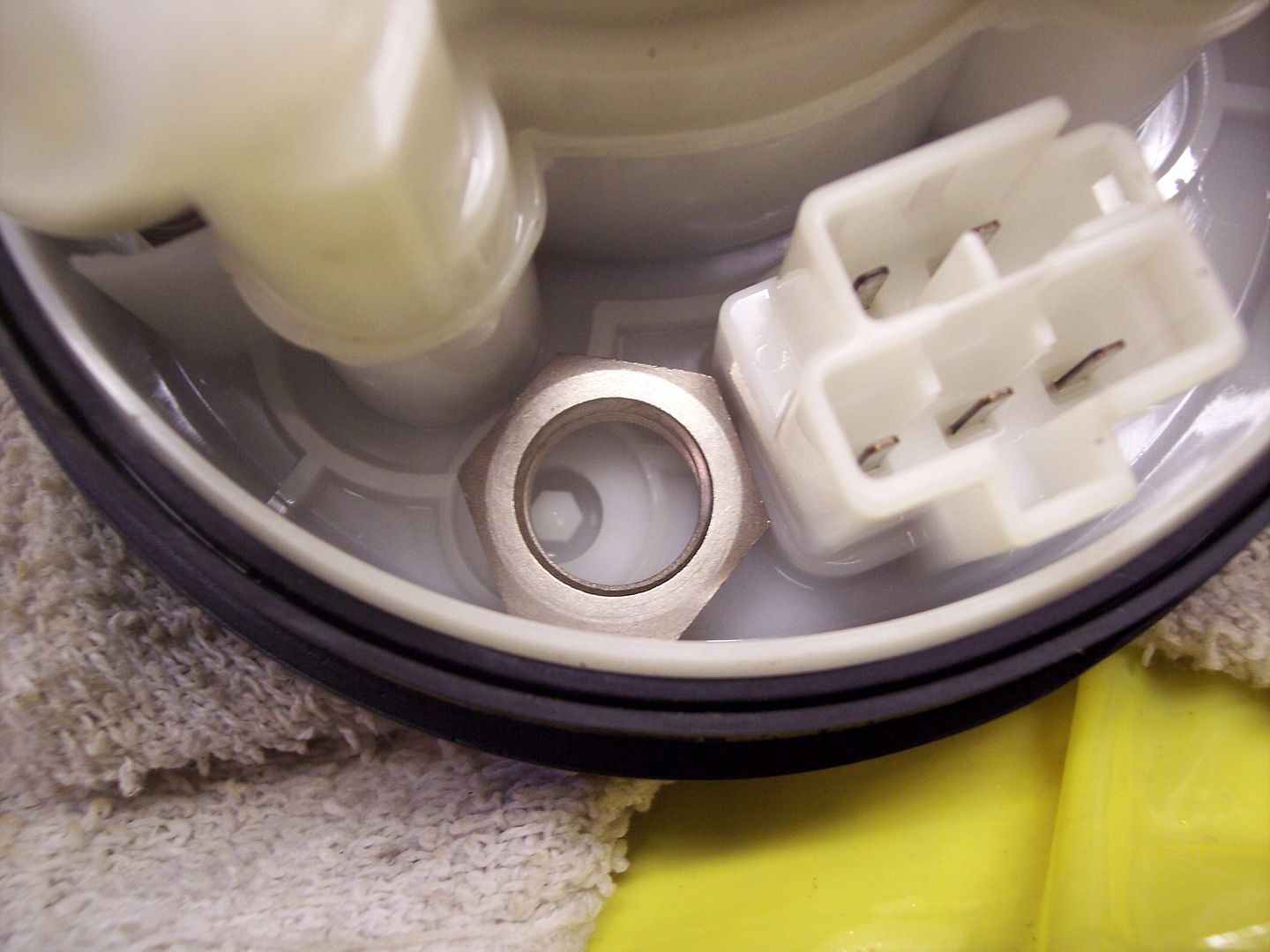 Then I drilled out the hole. I used a blade to clean up the burrs and etc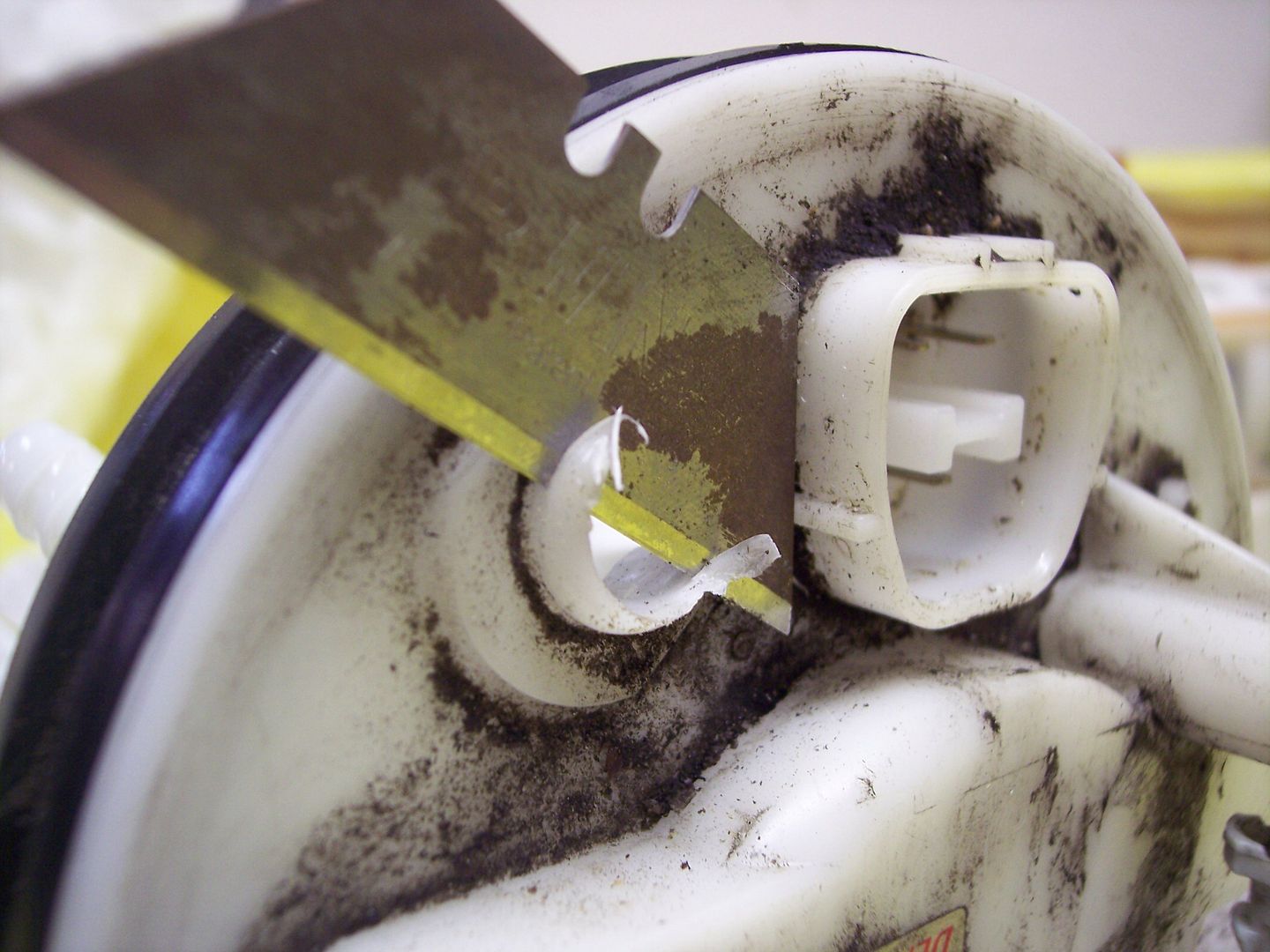 Now I placed my new fitting threw the hole
Now I attach the barb connector and redo the hoses. I use the stock feed nipple as the return now and the pump goes to the new added barb fitting.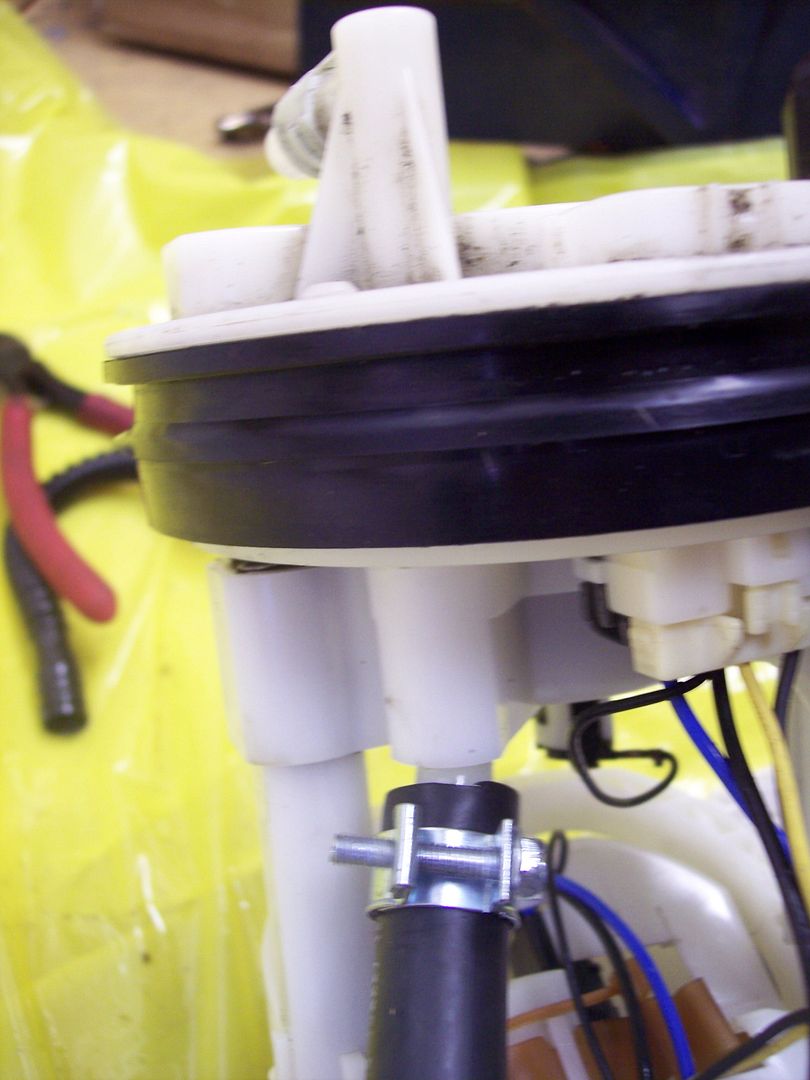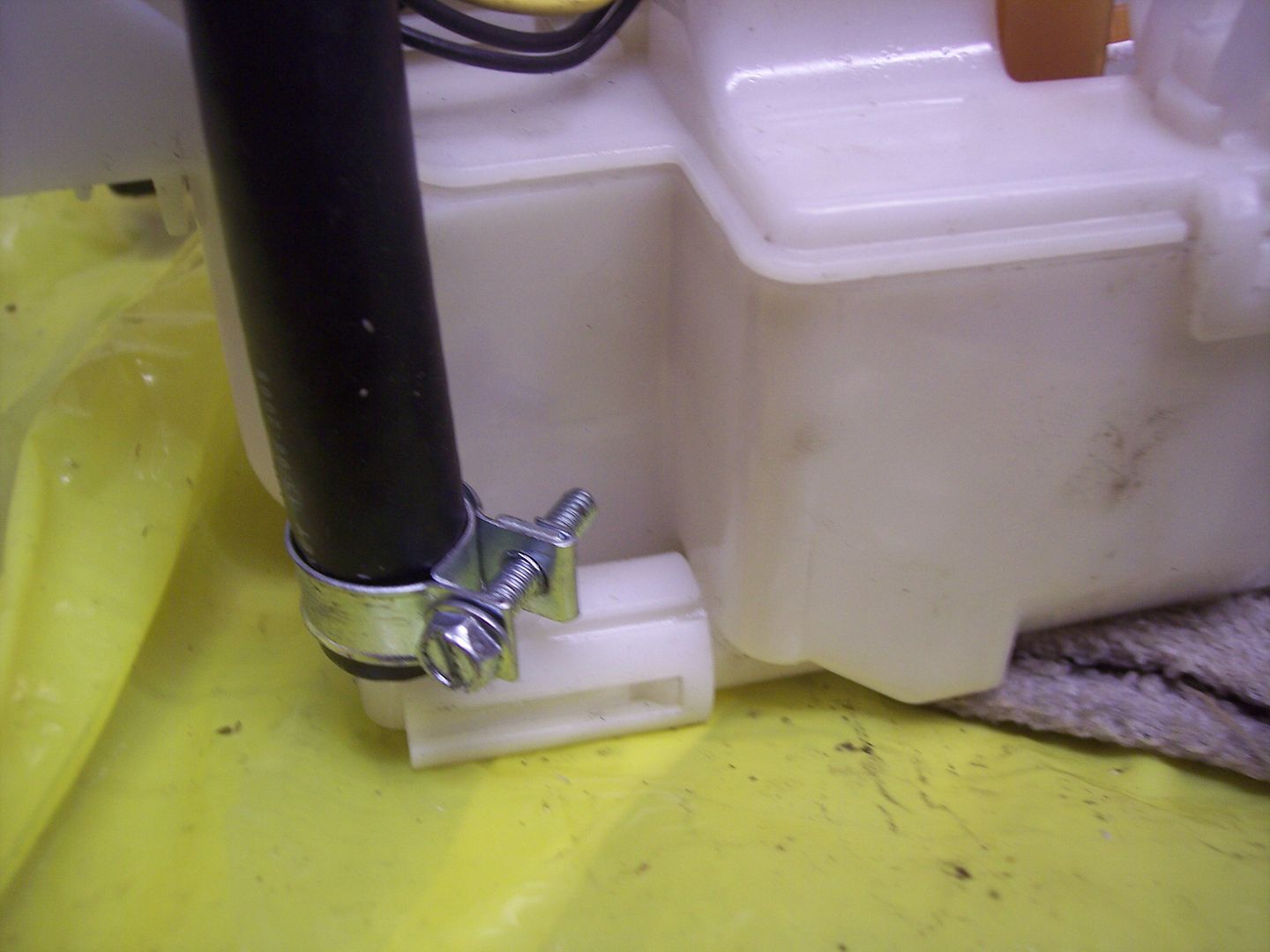 And put the pump back in the tank. Now to start the lines....
First thing I did was mount my inline fuel filter. First I wanted to wrap it in hose so it doesn't vibrate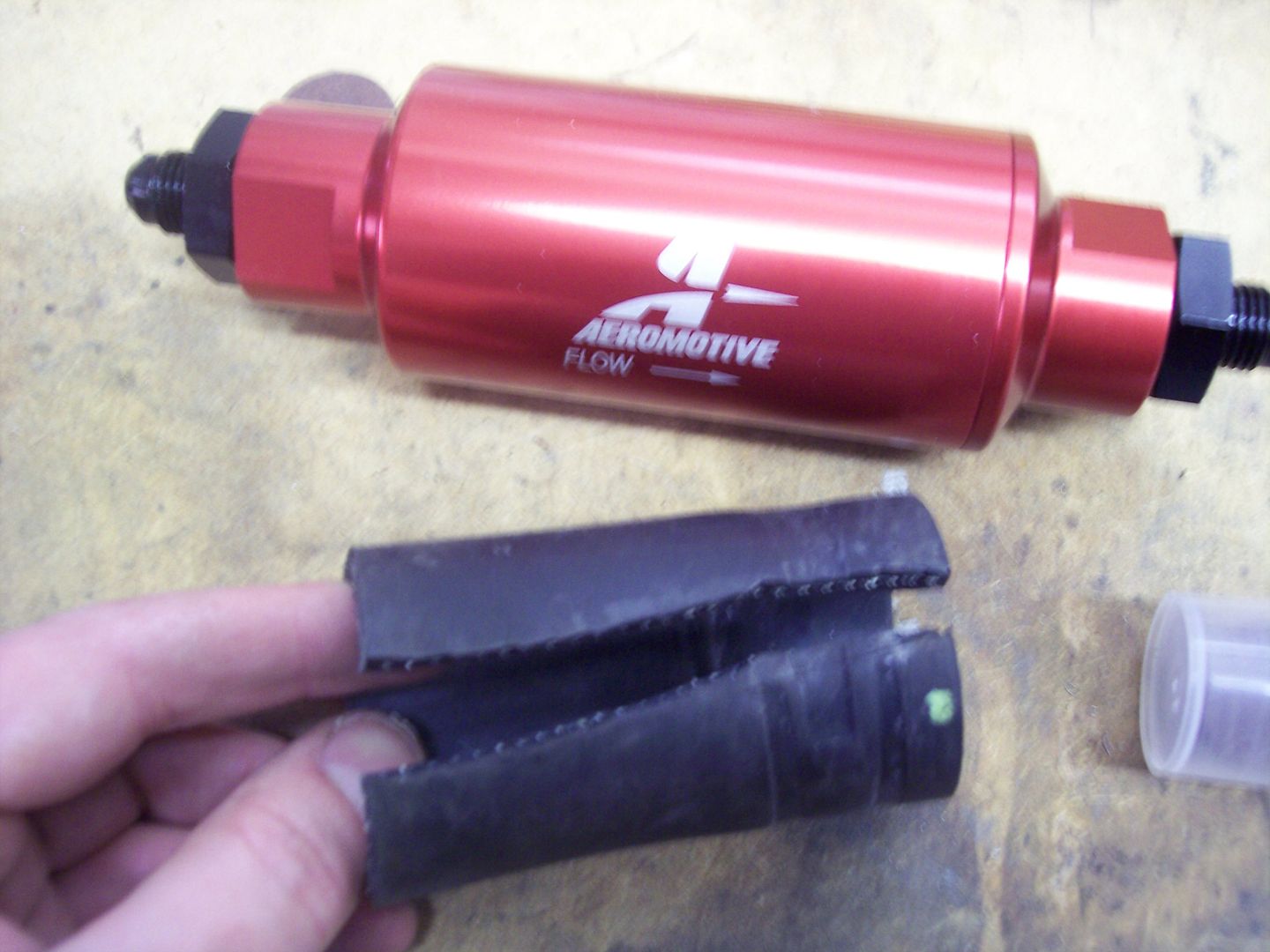 The using wire I mount it under the car where I wanted it
Now start by putting your line from the pump. Here is the first straight -6an fitting used. Run the hose down to under the car to the fuel filter.