Ok, well after a few years of having the oil pressure gauge I finally decided to go ahead & install it. I will be mounting it on a steering column pod, instead of the A-pillar.
I would like to thank Motab & Iron Raven for their old DIY write up's which helped me out alot. They have been +repped
http://forums.clubrsx.com/showthread.php?t=94056&highlight=Guage+pod
http://forums.clubrsx.com/showthread.php?t=321101&highlight=oil+pressure+sender
But since I had not seen any new DIY threads & the pictures did not work on some of the old threads, I decided to make a new one with lots of pics :thumbsup:
OK, here we go:
First make sure you have all the right tools, such as:
- Ratchet set (1/4", 3/8", 1/2" Drive) & your going to need a 15/16" deep socket.
- Wire strippers & crimpers
- 18 gauge wire ( I had 3 15 ft rolls of diff colors)
- 12v tester
- liquid thread sealer
- All the right fittings. (BSPT<NPT, NPT<BSPT, & a 1/8" Tee)
- Stainless steel braided hose with 1/8' brass fittings. (
http://www.longacreracing.com/catalo...t.asp?catid=11
)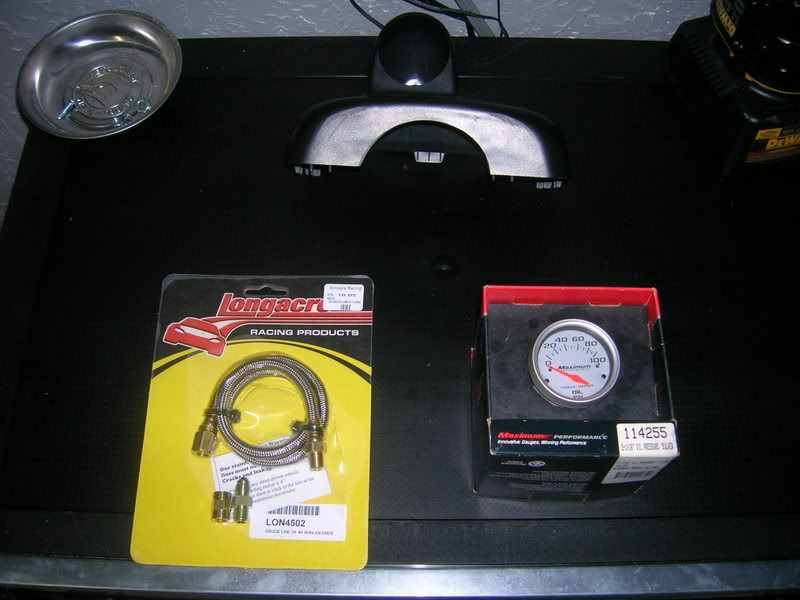 You going to have to get some BSPT fittings in order to screw into the block where the stock oil pressure sensor is. These are the ones that I got from
www.mcmaster.com
Part # 4092K11 - $7.60 ea.
Part # 4092K26 - $18.86 ea
One is a 1/8" BSTP to NPT, the other is NPT to BSTP.
Our stock sender has BSPT (British Std. Pipe Thread) while most gauges are NPT (National Pipe Thread), so we need a male BSPT with a Female NPT to screw into the block. And also a Male NPT with a Female BSPT to screw the stock sender into the Tee fitting.
Here are the fittings & gauge sender layed out: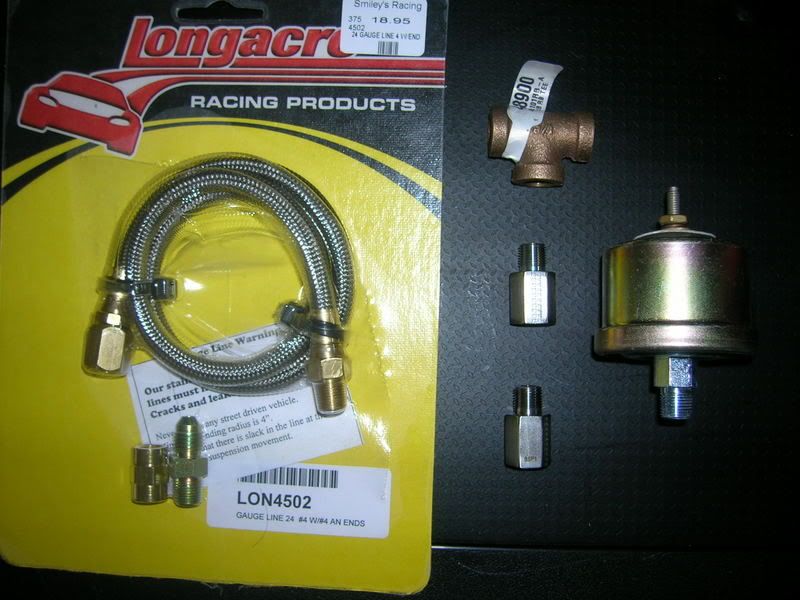 So lets do the mechanical part first. I removed the stock strut bar & the brackets on the valve cover just to have more space to work. Find the stock oil pressure sender. It below the Vtec solenoid assemblyto the passenger side of the engine, it has a rubber boot on it with a single wire, which can be pulled straight off. Refer to the linked threads for a good description of where it is. It's fairly easy to find, but not so easy to see. I found it best to just feel my way around.
Here is where you are going to need the 15/16" deep socket, I had to run out & buy one (which I'm returning tomorrow). Using my 1/2" ratchet I removed the stock sender.
Now I strongly suggest using liquid gasket sealer on all fittings. With that said, screw the male BSPT fitting into the stock sender port.
I think this is a good time to put together the oil sender remote assembly. Screw the gauge sender into one side of the Tee fitting, the male NPT fitting to another side & the stock sender into the fitting.
Looks like this: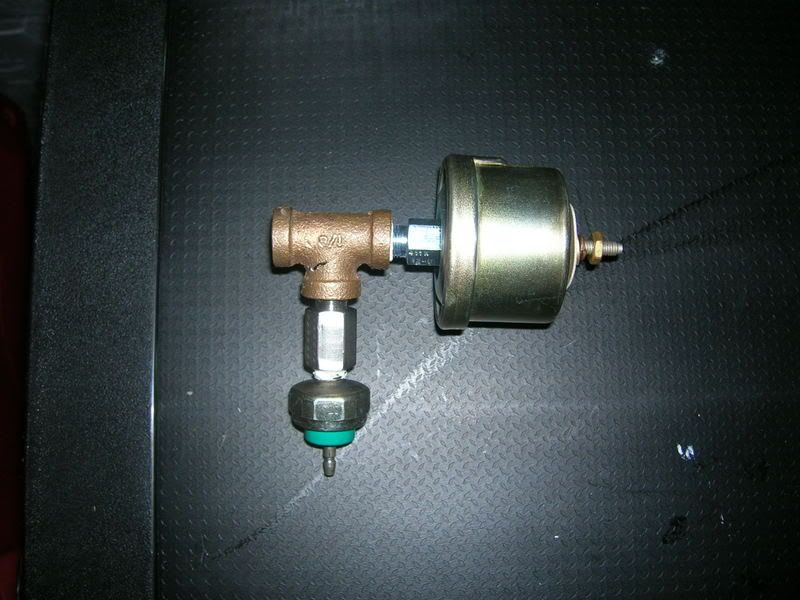 Now screw one end of the braided hose to the fitting you placed in the block & the other end into the last open port of the Tee fitting.
Resulting in this: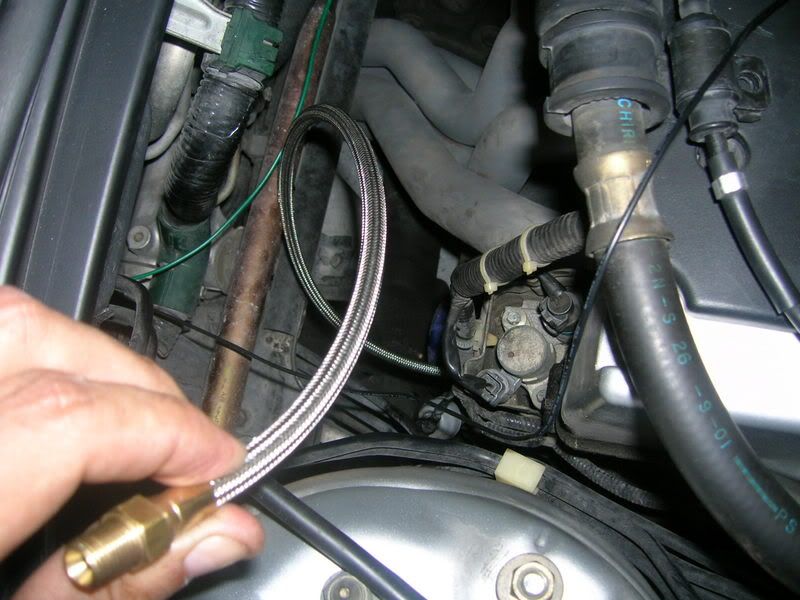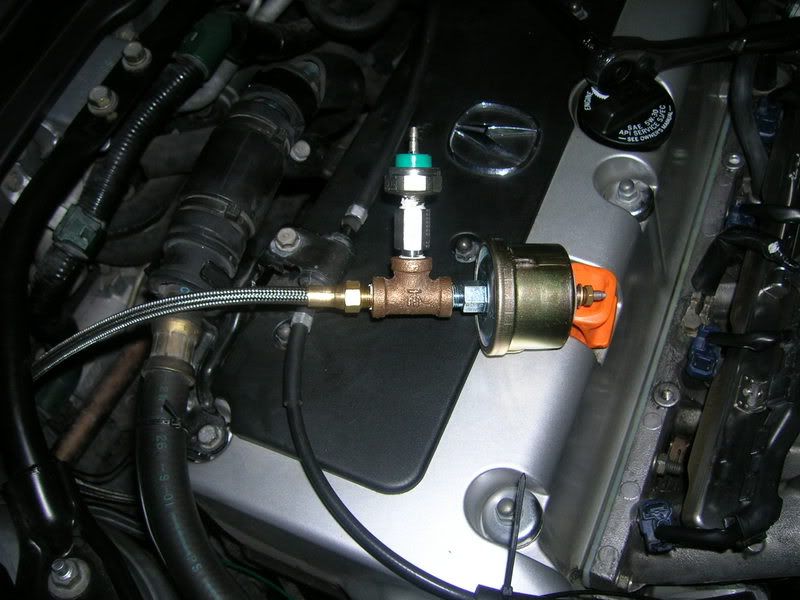 Make sure everything is tight & that you put thread sealer on everything. You dont want an oil fountain under your hood.
Dont mount the sender assembly yet, but start thinking if a place.