For us buff guys:lift:
Purple text is additional for removing the AC compressor.
Alright guys here it is, the power steering removal DIY. I will be showing you 2 routes: removal of PS only, and removal of PS and AC. Most pics borrowed from Karcepts. Here are the materials you will need:
EP3 Serpentine Belt (for removing PS only)
Prestone 505K7 Serpentine Belt (for removing both PS and AC)
EP3 Idle Pulley
EP3 Idle Pulley Bracket
EP3 Idle Pulley Bolt
EP3 Idle Pulley Bearing Cover
14mm combination wrench
16 mm combination wrench
a variety of sockets and a rachet
2 -6 AN hose fittings
16x1.5 metric to -6 AN adapter
14x1.5 metric to -6 AN adapter
3/8 fuel hose or -6 AN hose
pan to catch fluid
1. First,you will want to remove the power steering hoses and drain them into the oil pan. They are 10mm bolts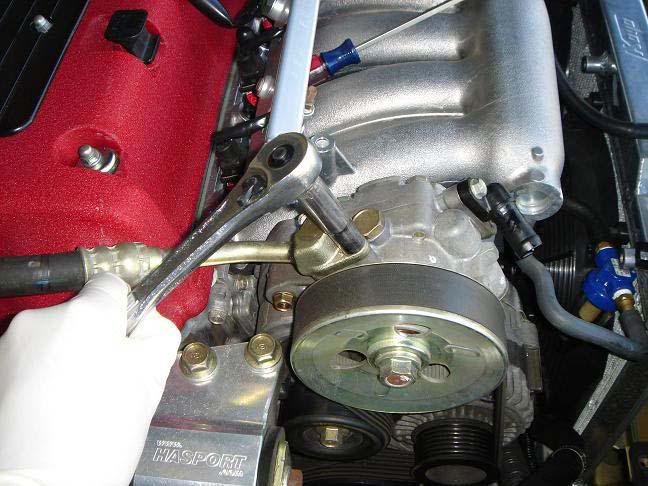 2. Using a 14mm and a 16mm combination wrench, unscrew the feed/return lines from the rack.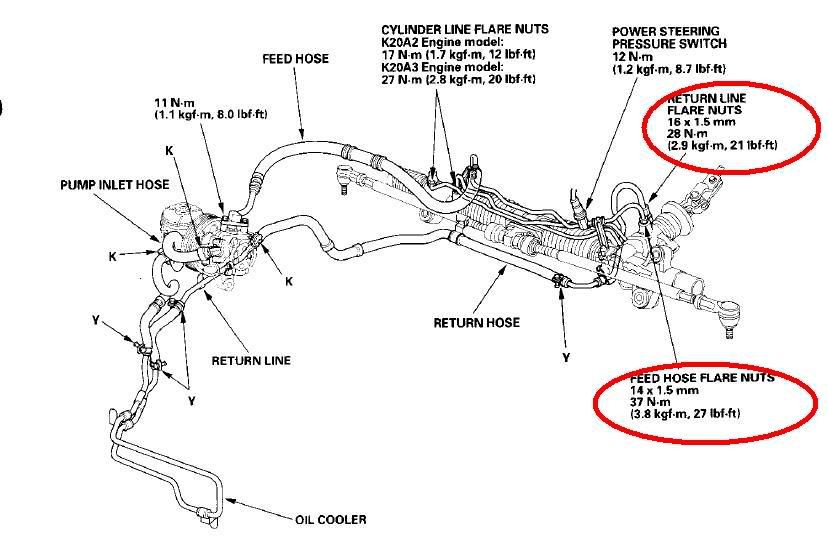 3. After that is done, you can begin removing all power steering lines/ reservoir. The lines are held in a few places; 2 on the firewall, and i think 1 under the reservoir/side of engine bay.
3. To fully remove the lines, removal of the header may be necessary. since i don't care to ever use my lines again, i just cut them.
4. Install your -6 AN hose fittings onto the adapters. you may want to wrap the the threads in teflon tape first.
DO NOT WRAP TEFLON TAPE AROUND THE SIDE GOING INTO THE RACK.
5. Install your new adapted AN fittings onto the rack.
6. Using 3/8 fuel hose or -6 AN hose, create a loop between the fittings. no clamps are required.
7. Next, you will want to relieve tension on the belt by using a 14mm combination wrench on the auto tensioner. Pull towards the front of the car.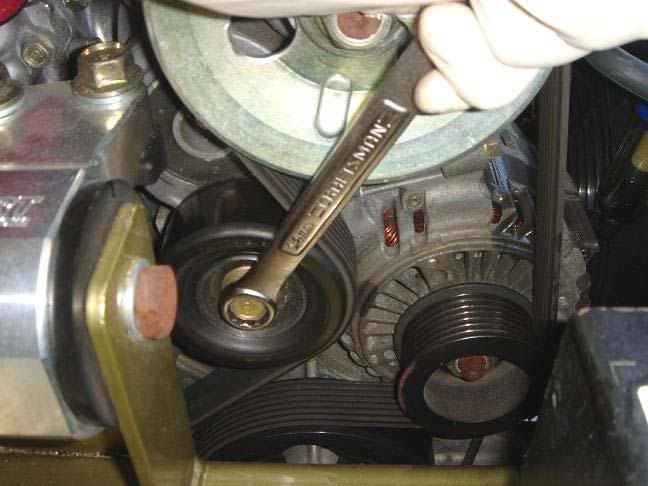 8. Unbolt the power steering pump. It is attached by 2 12mm bolts.
9. Unbolt the AC compressor (after freon has been removed). It is held on by 3 bolts.