THIS IS MORE FOR THOSE FIRST TIMERS MESSING WITH THE RSX DOORS. . .
You would think is self explanatory, but i did not know what was involved with the door removal and replacing of the door actuator. . . I would say the removal of the door panel is about a 1 out of 10, the door actuator is a 5.
Driver Door Actuator part #72155-S5P-A11 $ it ranges from $25 to 64, depending on dealership. (Passenger Door Actuator is #72115-S6A-J01)
First off. . The large arrows shows the sequence i went in. . The circles are the screws that needed to be removed.
Above: Remove panel behind the handle. Use a small screw driver to unclip it. Lift on the little tab and it should pop right out.
Above: Unclip the power to the door locks
Below: Be careful with these plastic clips (purple clip) to remove the rods
Below: Unplug the power windows clip.
DOOR PANEL SHOULD BE FREE!
For the Actuator. . .Continue. .
Above: Pop off the gasket holding the plastic in place
Below: Again, be careful with the removal of the plastic clips when removing the two rods, a gold one and a smaller silver one.
Below: Unscrew the three screws at the side of the door.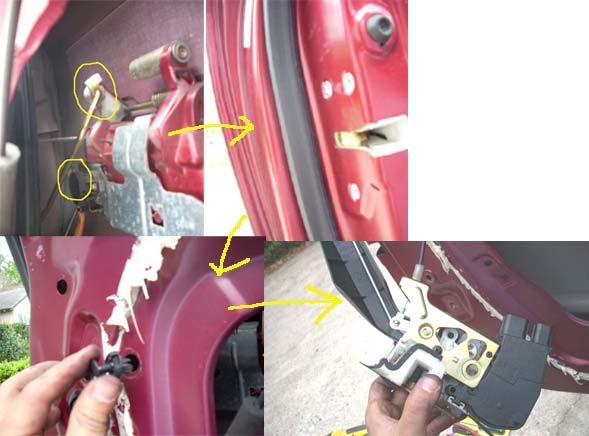 Remove black plug to release the shroud around the door lock.
Boom. . there is the actuator.
Remove one black screw from the metal plate. Replace actuator. .
Repeat procedure backwards. .
Good Luck! :thumbsup: