I have forsale my 2000 civic si, currently just turned over 103,000miles. VERY VERY VERY CLEAN car.. You won't find to many in this condition with these kinds of mods..
Looking for CASH or RSX, BMW but CASH CASH CASH
**If you car has rust of any kind don't bother.
WILL NOT PART OUT
* Just Changed the front brake pads and rotors*
Pretty mint condition minor ding here and there.. hardly noticable
Oem front lip
Oem rear lip
Oem spoiler
Oem fogs
Ctr headlights (replica)
Benen front tow hook (black)
Interior:
Gutted from the rear back.. Have all interior pieces.. that you can have but will not put them in myself. .you can do that
NO sound deadening and painted trunk and back seat area
Red Recaro Pole position
Memory fab rail
Red carpet from stock interiors
Takata harness (long)
1992 prelude seats
Oem type R shift boot
Spoon shift knob
Red door panel inserts
Type R style armrest
96-98 flip up cupholder
Buddy club short shifter (Energy suspension shift bushings)
Autopower full race roll bar painted cusco blue with padding
Nardi deep Rally steering wheel
Nardi hub
Audio:
Alpine 9851 headunit
Alpine type s front speakers
Alpine type s rear speakers
Alpine Ipod adaptor
Suspension:
Tein basic full damper coilovers
Skunk 2 gold Lca's
Asr polished mid brace
ITR 22mm rear sway bar
blox endlinks
Energy suspension sway bushings
Engine/bay:
Dc sports stainless 4-1 header
Apexi ws2 catback
AEM V2 Intake
Itr valve cover (laser cut)
spoon resovoir covers
Wheels:
16" RAYS Vspeed gold w/ polished lip wheels
205/45/16 parada spec2 tires
Rays blue lugs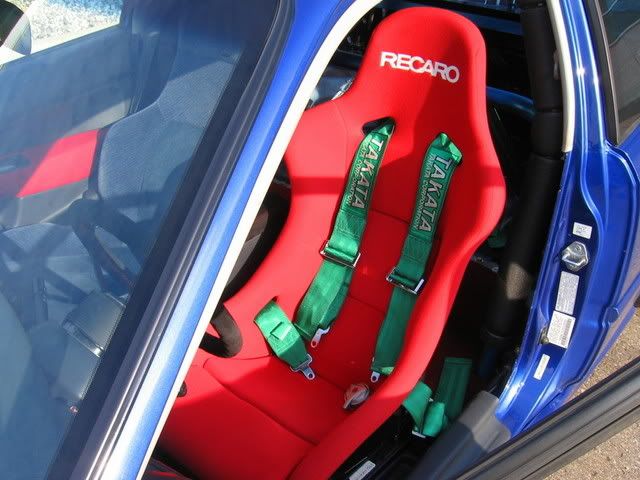 PRICE IS
11,500
Email me at:
[email protected]
Aim: kilekid06
Located in Michigan