First, let me explain what the Ground Control coilover kit is. It is a set of sleeves, purches and 2.5 inch dia springs that allow you to adjust ride hight with a number of after market dampers such as Koni and Bilstien. Since a pic is worth a thousand words...Here is a pic of one installed on the front shock.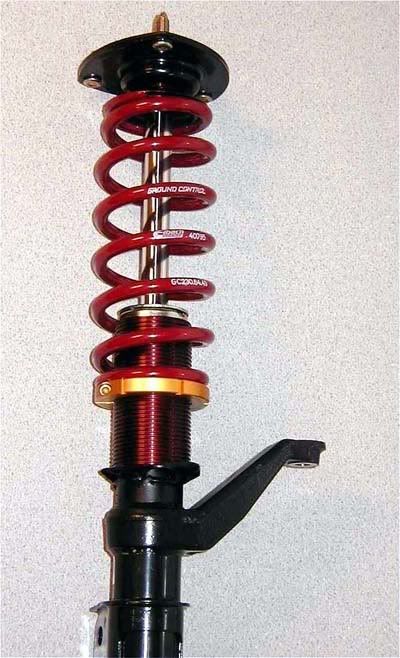 NOTE: this pic does not show the top seat in place....it is a gold peace that sits on the top of the spring and rides on the strut top bearing.
Now, there are a couple of advantages to the ground controle kit. The first is by going to a 2.5 inch dia spring, you gain access to a huge number of spring rates. Being able to adjust spring rates to the tires being used is a huge asset in suspensoin tuning. Another advantage is ease of ride hight adjustment. This can be used to get the right suspension geomitry or set corner weights with a scale set. The Kit also drops about 10 pounds in the front with the smaller springs and the removeal of the large steel spring purches.
There are a couple of ways you can order these kits. If you are going to use your stock struts, most retailors have the base kit for sale. This kit comes with springs that are just a little stiffer than the stock ones, this will allow you keep you stock struts a little longer as long as you do not "drop" the car to much. The next kit they have is the "autoX" kit. This kit comes with 370lb springs in the front and 515lb springs in the rear(remember stock is 249lb ft and 440lb rear). This is a "nice" kit for "hard" street tires and and a novice driver that is scared of throttel lift oversteer in turns.
For autoXers using larger than stock stickie(200 or lower tread wear numbers) tires,Ground Control offers custom spring rate kits. These can be had by calling them and telling them what spring rates you need with your kit. My advice as a good starting point for this is 515lb for the front and 850lb in the rear......A word of waring! This is stiff, real f-ing stiff but brake dive will be almost gone and there will be very little body roll. If you try these high spring rates with 300TW(tread wear) or harder tires, your tires will spend a lot of time sliding sideways as your tires will not have enough grip to allow your suspension to take the proper set( kinda like a racing gocart)....fun, but not fast....
Remember, you can order new springs for about 130 a pair if you wish to try another rate from GC
My current set up is 370lb front and 600lb rear and the highway ride is very nice. This is on 225/45-17 falkan 459 tires. I do not recomend this set up. The front purch is all the way to the top of the threads and the car is not high enough with the 6 inch tall spring. I am going to try a 400lb spring that is 8 inchs long to get the right LCA angle. I also want to raze the spring rate in the rear to about 700lbs
Ok, I have come across the question a number of times. The makers of springs have a system of marking their springs. For example, if you order some Ground Controle coilover sleves with the autoX springs, you will see this stamped on the sides of the springs...
Front spring:150.64.66
Rear spring :150.64.92
The first number is the lenght in mm, 150 mm = 6 inches(25.4mm to a inch)
The second number is the width in mm, 64mm=2.5
And the 3rd number is in kg/cm, so 6.6=6.6k. Now to to convert "K" to to lb/in you X it by 56. so 6.6k=370lb and 9.2 k = 515lb rate springs.
Hope that helps.