After much debating over which mod to buy next, I splurged with some x-mas money and bought this from King Motorsports. Let be be the first to say, if you are expecting some kind of "fantastic power gain" from this because it is $700, you need to look elsewhere. This is a product for people who want the a track proven intake and are willing to pay for a one-of-a-kind piece. I am very very pleased wit all aspects of this airbox, except one.... the installation. I am a mechanic by profession and I know lots of tips and trick and can move my hands in places you'd be surprised, well I needed them all because this was by no means easy. And with that said I will begin:

1. Installation -
After taking the Mugen Box out and feeling the dramatically lower weight than the stock box I had just taken out, I was pleasantly surprised. I looked at how the holes lined up and I said to my fiancee who was checking it out, "what the hell are those crsx guys talking about, the holes line up fine." :laughing: So I get all my tools together and I put the snorkel on to the duct, which is very tight. YOU HAVE TO BE VERY VERY VERY CAREFUL INSTALLING THIS BOX AND DUCT. It is made of fiberglass and is very fragile and the mounts will snap or the box will crack if you are not careful in handling it. The duct was very hard to maneuver into place under the upper radiator hose, it took lots of finagling to get into place. You have to be very careful not to jam it in and crack it. After that was in place, It was time for the lower portion of the box to go in. Take the rubber mounts off the stock box and put them on the Mugen box. Maneuver the box into place GENTLY. The mounts will crack if you piss them off. The next fiasco was putting the snorkel the bottom portion of the box. You gotta work it and baby it so you don't crack it. After that was connected, I test fitted the top portion of the box to see what all of this nonsense was about the breather hose.... well I found out. There is a really stupid coolant line that connects to the breather hose that will not fit well with the Mugen box.
(UPDATE- credit to cwdc5: unbolt the clutch reservoir and you can wiggle the coolant heater line on [also trim a few mm of the hose], and then rebolt in the reservoir)
So I disconnected the breather, drove my fiancees car to home depot and bought a 3/8" male-to-male splicer, kinda big but they didnt have 5/16", it works fine though, and two new clamps. I also stole about 7 inches of heater hose as well for the new breather hose. After the coolant lines were connected, I test fit the breather hose, trimming as much as necessary, until it was the correct length. Well here comes the joy... the top portion of the box. After cutting the breather hose to the right length, I slid the box on and looked at the holes.......... and oh my fucking god they dont line up. I have no idea how or why but they didn't and I was like, "shit they were right". Alot of finagling had to be done in order to move the top portion and not crack it. I successfully got 8 of the 13 screws in place, and heres the kicker that will make you wonder why you paid $700: the screws are very soft and strip very easily. I had two other screws laying around so I put those in, but Im still missing 3 screws, but they are spread out and there is no air leak, so all is well. But I still wonder, "for $700 they could have given me some GOOD screws dammit."
(UPDATE- Thanks KrazyKarl)The specifications on the bolts are M5-0.8 x 16mm
. I cleaned the top of the box with rubbing alcohol very gently and put the Mugen sticker on, not the one that came with the box but one I had ordered as well. It looks much better than the supplied sticker.
2. Driving Feel -
Ok, now for the good news! The Mugen box really smooths out the power of the motor and it does have much better power-on-demand when you give quick, hard throttle bursts. Its much easier to accidentally squeal the tires when you turn and give the throttle a quick mash. This will be adjusted to quickly though. I feel like the engine is breathing much much better now than compared to the stock box, which mind you was gutted and had a Spoon filter. I was very happy that this Mugen box gave me such a better performance gain than I had hope for. I figured the gain wouldn't be that great since my gutted stock box worked just fine for me. IVTEC pulls a little more as well. Response while shifting has changed alot, where stock it would bog a bit it now transitions with power. That was what I was hoping for the most and I am very satisfied with it. I have driven it in the cold and the hot and there is no noticeable change. It really is nice when you feel it get hot outside and you can be assured you wont feel this huge drop in performance from the heat soak, or lack of it in this case!

3. Sound -
My gutted box was very deep and got quite soon after pressing the throttle, while being rather loud in IVTEC. The Mugen box is very mellow, very quite and really very pleasant sounding. Ive heard it referred to as sounding "like and S2000", but it really is much more unique. I can hear the raw power of the engine but it is very smooth as opposed to the gutted stock box which was just loud.

4. Comparison -
Comparing it to the stock gutted airbox:
1. Much better throttle response
2. More mellow, smooth sound
3. No heat soak, none, nothing, nada, lets put a stop to this "does it heat soak" question NOW.
5. Comparison -
Comparing it to the Injen Mega Ram
1. Much better throttle response
2. Much better sound IMO, the Mega Ram sounded loud and obnoxious with really annoying whistle.
3. No heat soak
There really is no comparison between the Mugen box and an SRI or CAI for that matter. They are completely different intakes made with completely different materials each trying to achieve a very different goal. Bottom line is when buying an intake, you need to ask your self what you want. Let me help:
"I want more power" = CAI, forget hydrolock, just dont drive like an idiot
"I want an intake but only want to spend as little as I have to" = SRI or gut your stocky and put a high flow filter
"I want better circuit track / auto-x performance and throttle response" = Airbox, just decide between Mugen, Arc, and Comptech.
"I want power, throttle response, and I want it cheap" = Get a fucking clue, you cant have it all.
When you buy this Mugen box, you cannot expect a heavy-duty, major power making product. What you are buying and paying for is the quality, R&D, and use of appropriate materials. Sure it is expensive, but it is the only one that is hand crafted with heat soak free fiberglass and worthy of carrying the name Mugen.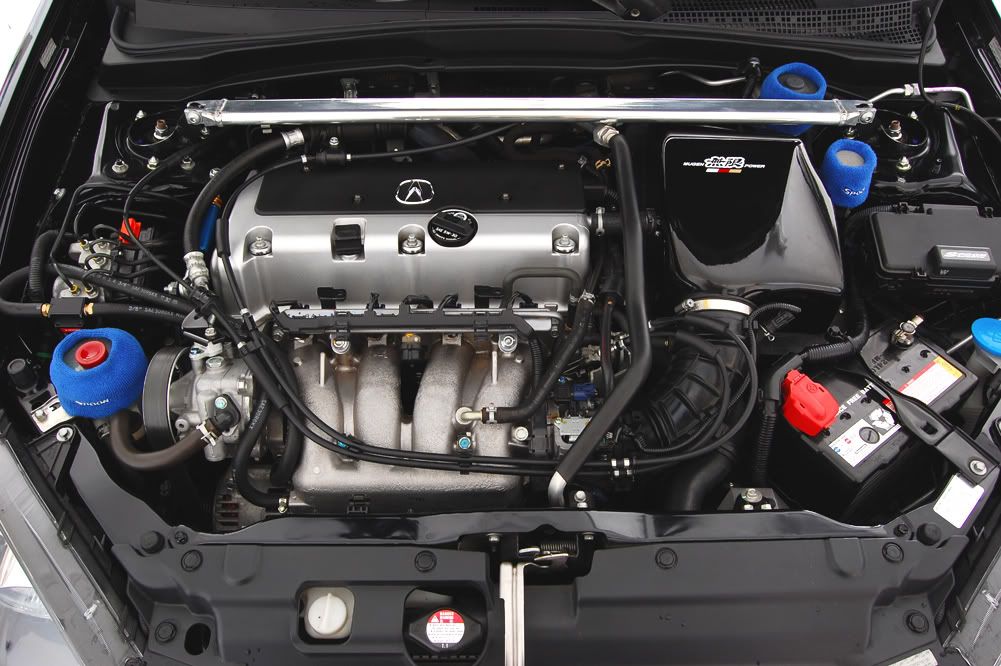 Enjoy and discuss:thumbsup: