NYC Flip 22: 05' RSX-S (C-West N2 - I'm Back!)
Hello. It's been a while since I've posted pics. 3 years? My car has been unchanged since then! 3 years without any new mods! lol.
I was one of the first 05's with the authentic C-West N2 front bumpers when it came out. I would've just gone for a replica front, but they didn't have any out yet. I don't like fiberglass...which is why I have to get my front reinforced, repainted, etc.
I went to the park to continue instructing my gf on how to drive manual. I decided to snap a few quick pics. I was going to wait till I get my front bumper redone and a new CF hood, but I got a new camera so I wanted to see what it can do.
Camera: Canon SX10 IS
Pls excuse the quick amateur shots and editing. I'm still in the learning process :thumbsup:
Mods:

Injen RS CAI (CRSX Gunmetal Edition)
Ceramic DCRH
Borla Exhaust
ESMM
TB Coolant Bypass
C-West NII Front Bumper
05 A-Spec Rear
Type-R Spoiler
Spoon Spark Plug Cover
Spoon Reservoir Covers
Spoon Front Strut Bar
Progress Springs
18x7.5 GOLD Ray's G-Games 77wolf
225/40/18 Falken ze512 Tires
Recaro DC2Seats
Sparco Door Panels
Skunk 2 10th Anniversary Shift knob
PIAA Yellow City Lights
DIY Shift Boot
Polarg Map/Dome/Glovebox Lights
Eurolite Trunk/License Plate Lights
Filipino Flag

Future Plans:
Well, I had planned for the Wilwood BBK, Black interior swap, and a few minor things, but I have changed my mind.
I'm going to just have my front bumper fixed as stated and a new CF Hood.
After I graduate, and my lease on the Camry is up, I plan on getting an S5 or something similar. Just a simple daily driver. My actual "next car" is going to be a big an expensive project. If all goes well, I'll have my "dream car" in about 3-4 years
ray:
This first shot is overdone. I thought it looked cool so I decided to leave it.
#1.
#2.
#3.
#4.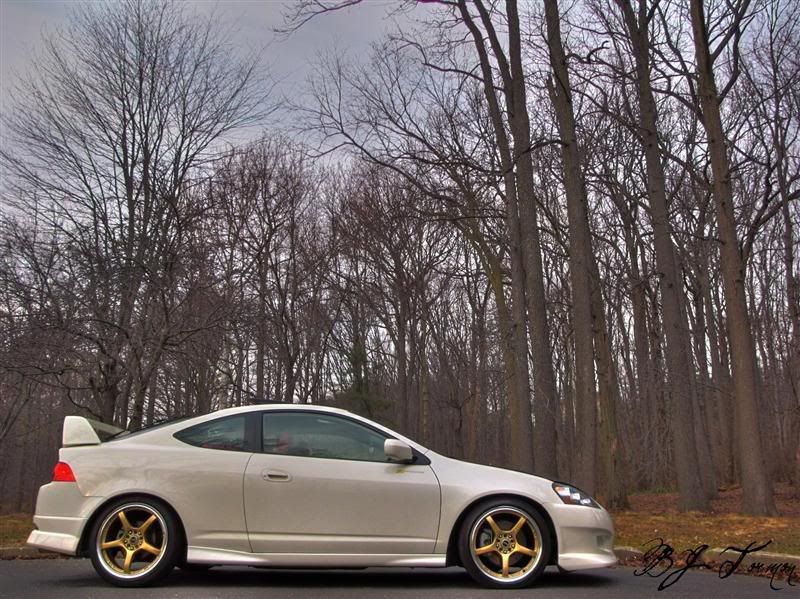 #5.
#6.
#7.
#8.
Thanks for looking!
:wavey: