lmfao sounds like that place needs to be broken in haha a year though? is that the potential getaway spot when the lady goes full blown psycho like most do on occasions? haha kidding kidding.

yeah man im the same way. the only way ive learned anything about cars is by tearing them completely apart and figuring out how to put it back together. my parents was deep into the car scene in the 80's and 90's so i got to grow up learning also. the rsx ibe just had it apart so many times on all 3 of them ive owned since 06 i just learned a shit ton. on this one im building now though there is literally nothing on the car i havent freshened up, replaced, or rebuilt. from the wheel studs through the entire suspension to motor, body, interior it has all been messed with. and the funny part is the entire time ive posted instagram and facebook stories throught the entire build till now i have a bigger following from random people not even into cars but my close friends that got out of the game are confused because i never got super deep into a build like this and they didnt know i knew so much about them. so it was kinda funny and annoying at the same time. ive had so many people asking me to paint their cars after seeing my process. and a couple asking how much id charge to build their car like i did mine. they didnt like the answers lol

my entire philosophy is i have this part now on the car, so i better make damn sure i know everything there is to know about it so when a problem arises i should have a very good idea on the solution, also i can change stuff around if i need to and keep it the same. if that makes sense. lol i just have to know exactly how everything works and works together. the only time any of my vehicles ive ever owned has seen someone elses hands has been only mounting and balancing tires and alignments. but now i can align myself but to get precision alignments i do take it in for it. if i can find a shop with an alignment pit since my car is 2.5" off the ground lol
Hmmmm. lol It would seem as though your knowledge extends beyond cars....Your not supposed to understand women, you know that right? I got "uh-huh" down to a science! I can say it ten different way's! I also have a "blank" stare that I use quit effectively!
woof where to begin . Heres what I've come up with. WOMEN are only sane two weeks out of the month? They think their alright, but there not. They are either pre-mensural, mensural, or post mensural. So I was with my Highschool "sweetheart" for 13-14 years. Were divorced and I've been with my currant G/F for 6 years+ We've both been married once and don't see the need to do it again? With my ex wife she'd get on her roll. Like it was her God given gift. So I'd just stick it in her ass. Then she would bounce around the house like a lil' bunny rabbit for a couple day's and ask me if I needed a drink or something to eat....lol I've found this to be a universal fix? Kinda like duct tape or a hose clamp? Naturally after a couple day's you need to reapply. lol
O.k so as for the condo, It's simply leverage. She has a P.H.D and the house is hers. Doesn't matter as I just fuc her in the ass. "Intelligence" goes right out the window. I mean it's hard for her to argue when her mouths hangin' open and she's biting a pillow? lol It's just simply a way for me to say "whatever". I'll leave your ass and you have nothing on me. It's like the balance of the relationship? A chip so to speak? I took a nap there once. It really is officiant and simply a place to go. Nice job making fun of my coffee table! (dick head) lol That's another story. Gotta love the neon phone though!
So much here to address, thankyou for sharing. So you grew up with some hippy parent's that had a van with wall-2-wall carpet and a fridge? LOL I guess you could call that camping? Don't feel bad we had a pop-up. I raced bikes, then moto-cross, then cars. Always fixed my own shit and that's how I learned. I was a mechanic for CAT and other dealerships. The shop owners were the ones making the money and I got burned out doing it all day/ EVERYDAY. Now I work on houses. Making a living and staying out of trouble. I have a good Women and a Pitbull. My kids are grown she's never had any and It's as close to "no worry's" as I've ever been. No child support or student debt. I hope your doing the same and life may never be smooth. Sounds like your doing what you love and that is the key to happiness? I'll try to put this up, don't know if it will go. Life takes work, it just doesn't happen?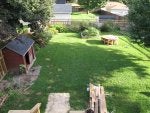 Yeah, that's a hot tub in the back yard...Don't ask? Like we care..The neighbors run in there house when we wave. Kinda hurts my feelings. lol