Well I got her from my friend when I was in a tight spot and she hooked me up with a good price at 52k miles and this was in October.
Interior:
Personal Wheel
Red NRG 2.5 QR
Ebay hub soon to be replaced by nrg short hub
Kenwood head unit( 100000000000x better than stock!)
Memfab Carbon Kevlar Seats
Buddy Club Rails
Exterior:
Yellow fogs
JDM H Badges
20% tint
Viper 5901 ( warm cars in the morning on cold days are AWESOME)
Suspention:
Raceland Coilovers ( for those who want to know more
http://forums.clubrsx.com/showthread.php?t=688931
)
My Review!
Ep3 Tie rod ends
Engine:
10lb Zex bottle
Zex purple brain
Dynotune fogger
Dynotune lean down switch
Dynotune bottle pressure guage
Zex Bottle heater
Nitrous is not hooked up currentley
Wheels:
02-04 type s stockies
xxr 521's in flat black( for now) 18x8.5 +40
Tires for the 521's- Nankang 215/40/18
Need to buy
Full Mugen lip kit
Camber kits
Black interior swap
Beaks bar
LCA's
Progress Sway bar
HID's
NRG Short hub
type s header/exhaust
SRI
Lots of powdercoating
Kpro
Another set of wheels
First day I brought it home and clay barred it and all that jaz.
Then had to get the fog, the rsx just doesnt look right without them.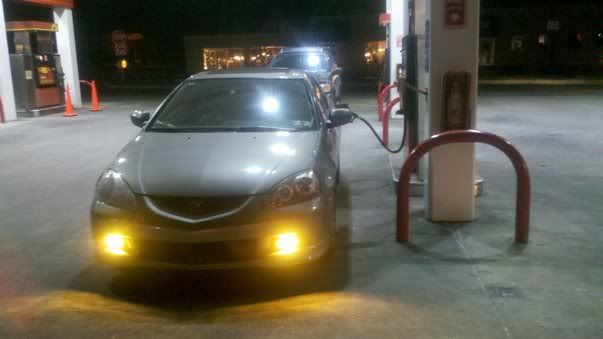 MyDC5 and red badges.
[IM
G]http://i653.photobucket.com/albums/uu258/maxxda6/165760_500614544173_519869173_5949789_2539475_n.jpg[/IMG]