I made the cover of Honda Tuning Magazine!!!!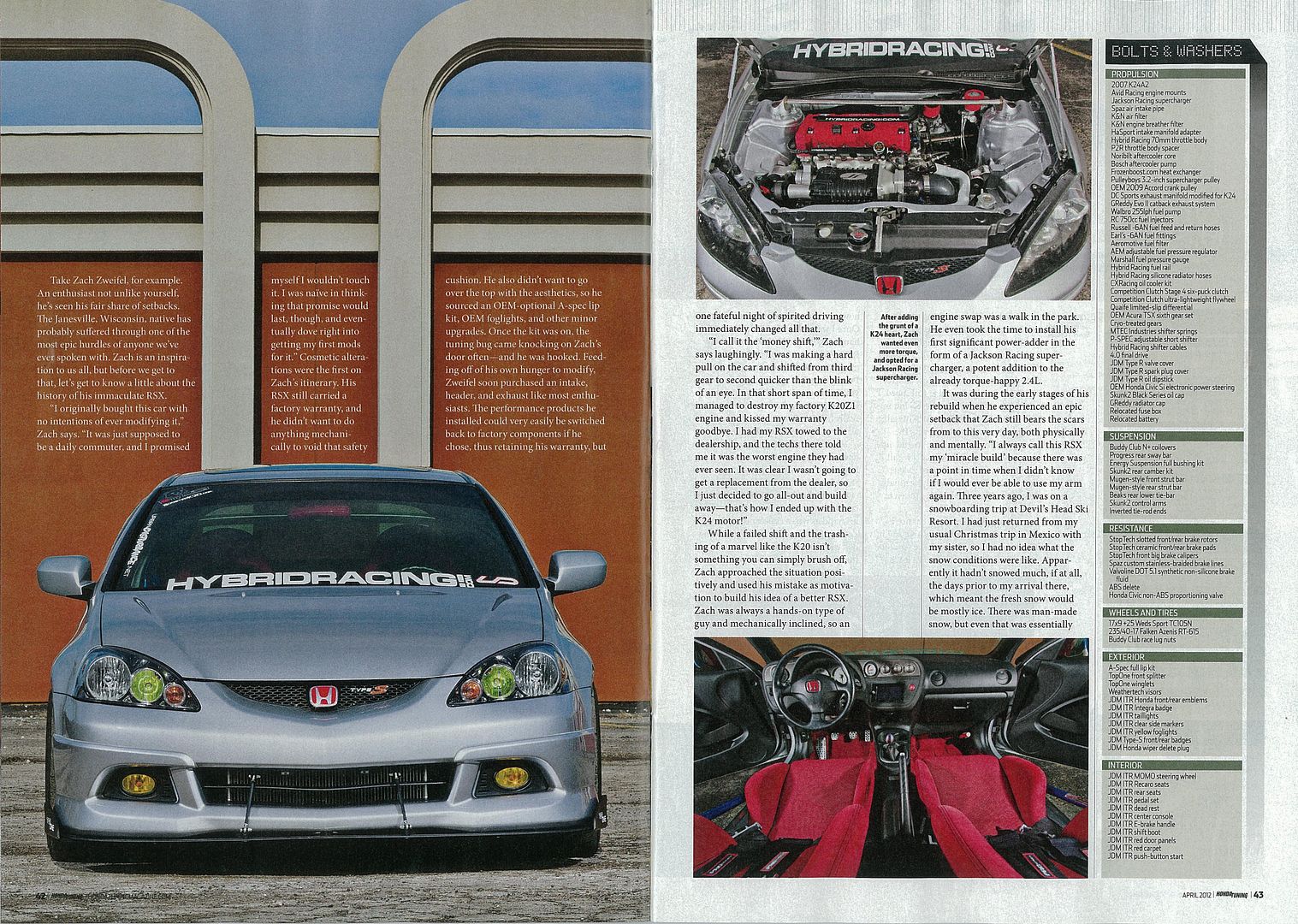 Hybrid-Racing contacted me a couple of weeks ago asking if I would be interested in being feature on their website and blog. Of course I said yes!


Check it out!
http://www.hybrid-racing.com/blog/hr-feature-car-friday-issue-1-zacks-blown-big-block-rsx/
Well another season has come and gone for my DC5. She will be in storage end of next week. So this week between rain storms, heavy winds, and the freezing cold weather I snapped off some video footage and put together an end of the year video.
I'm no pro but I enjoy editing. So I tried to keep it clean and did what I could with what I had! It's all shot with a small GoPro. Someday I'll stop buying car parts so I can buy a video camera!
Anyways, Here it is: Fall is Here...

http://www.youtube.com/watch?v=mv1Qp5tPc-4
and
Final Photoshoot Video
http://www.youtube.com/watch?v=bvVTvXKgDOw
I would like to thank everyone who has been following my build, progress, and DIY's for all of your support.
I would also like to thank you all for your wonderful comments, your help, ideas, and opinions! Keep them coming!
For those who are seeing my car for the first time,:wavey:WELCOME:wavey: You can start catching up and read all of my old posts from my first show-off here:
My First Show-Off Thread!
http://forums.clubrsx.com/showthread.php?t=658031

My Second Show-Off Thread!
http://forums.clubrsx.com/showthread.php?t=751156

My Third Show-Off Thread!
http://forums.clubrsx.com/showthread.php?t=774689

​
Progress Pages
Page 72 --> All in Fab Valve cover
Page 70 --> Shaving RBC Manifold
Page 69 --> Photos from Honda Tuning Shoot
Page 66 --> Yup you guessed it... more sanding
Page 64 --> Sanding Passenger side
Page 63 --> More filling and sanding driver side :emo:
Page 59 --> Featured in Honda Tuning Magazine
Page 57 --> Featured on Hybrid-Racing.com
Page 53 --> More filler and sanding
Page 51 --> FPR and started mudding
Page 51 --> Built a new Work Bench of compressor
Page 50 --> Placing engine on stand
Page 47 --> More welding and griding
Page 46 --> Welding strut towers and mounts
Page 45 --> More Grinding
Page 44 --> Energy Suspension Bushing Kit
Page 43 --> Filling bigger holes
Page 40 --> Started Grinding
Page 37 --> Secret final photos
Thanks Matt!
Page 36 --> Wilwood Brake booster Delete
Page 34 --> Pulled Engine again....
Page 26 --> G-Force Harnesses
Page 23 --> End of Season Photos!
Page 21 --> Final End of Season Video
Page 20 --> Test Video
Page 19 --> Video of fender pulling
Page 18 --> New Splitter Rods
Page 15 --> TopOne Splitter and Winglets also fender pulling
Page 9 --> New Sideskirts!
Page 6 --> Pulled Engine from STI

:vtec:
Here is a list of my current modifications:
Engine
07 K24A2 swap
JDM Type-R Valve cover
SeenIt Spark Plug Cover
JDM Type-R Oil Dipstick
ChaseBays Wiring Harness CM1
Hondata K-pro
Jackson Racing Supercharger
3.2" Blower Pulley
09 Honda Accord Crank Pulley
Noribilt Aftercooler Core
Bosch Aftercooler Pump
Hybrid Racing 70mm Throttle Body
Hybrid Racing Fuel Rail
Hybrid Racing Slim Oil Cap
Hybrid Racing Silicone Radiator Hoses
Hybrid Racing Shift Cables
Marshal Fuel Pressure Gauge
R.C. Engineering 750cc Injectors
Aeromotive Inline Fuel Filter
Walboro 255lb Fuel Pump
AEM Fuel Pressure Regulator
Avid 75A Motor Mounts
Energy Suspension front mount insert
Hasport Intake Manifold Adapter
P2R Throttle Body Spacer
D.C. Race Header Modified for k24
Greddy Evo II Catback
Greddy Radiator Cap
Mugen Replica upper strut bar
Honda Civc Non ABS Prop Valve
Honda Civic SI Electronic Power Steering
Fuse Box Relocated
Battery Relocated
K&N Breather Filter 62-1560
ABS Delete
Spaz Braided Brake Lines
Spaz Intake
JDM Driver Badge Reservoir Covers
Transmission
4.0 Final Drive
Quaife LSD
Competition Stage 4 Six Puck Clutch
Competition Ultra-lite Flywheel
TSX 6th Gear Set
Cryo Treated Gears
Spaz Braided Clutch Line
Exterior
JDM Type-R Honda Front/Rear Emblems
JDM Type-R Integra Badge
JDM Type-R Tail Lights
JDM Type-R Clear Sidemarkers
JDM Type-R Yellow Fog Lights
JDM Type-S Front/Rear Badge
JDM Honda Wiper Delete Plug
A-Spec Full Kit
Top One Front Splitter with Rods
PasswordJDM Front Tow Hook
Weathertech Window Visors
Rear Window Visor
15% window tint all around
6000k HID
RetroSolution Reverse LED bulbs
Buddy Club N+ Coilovers
Buddy Club Race Lugnuts
17x9" +25 WedsSport TC105Ns
235/40 Azenis RT615 Tires
StopTech Touring Big Brake Calipers
Power Slot Slotted Rotors front/rear
CRSX Red Braided Brake Lines
Skunk2 Rear Camber Kit
Rolled Fenders in Rear
Pulled Fenders in Front
Progress Sway Bar
Skunk2 Clear LCAs
Red Beaks Bar
Interior
JDM Type-R MOMO Steering Wheel
JDM Type-R Red Recaro Seats
JDM Type-R Rear Seats
JDM Type-R Pedals
JDM Type-R Dead Rest
JDM Type-R Center Console
JDM Type-R E-Brake Handle
JDM Type-R Shift Boot
JDM Type-R Red Door Panels
JDM Type-R Red Carpet
JDM Type-R Push Button Start
JDM Type-R Road Flare and Bracket
JDM Type-R Coin Pocket
JDM Type-S Door Sills
JDM CTR Honda Key Conversion
AUDM Type-S Gauge Cluster
Honda Civic SI Hazard button
Honda Fit turn signal/Fog Light switch
Mugen Red Rear View Mirror Cover
Pioneer Avic D3 Touch Screen Navi
International Double Din Dash Kit
Blox Neo Shift Knob
P-Spec Tuning Short Throw Shifter
Autometer Boost Gauge
Megan C-Pillar Bar
Mugen Replica Mid Bar
Rear Upper Strut bar
Cusco B-Pillar Bars
NRG Blue Harness Bar
G-Force Pro Series 6pt Harness
When I first picked up my RSX-S pictures
Collection of My D.I.Y's
D.I.Y Tow Hook Install
D.I.Y Vent Gauge Pod
D.I.Y Kill Switch Install
D.I.Y V-Lip instal
D.I.Y Changing Front Sway Bar
D.I.Y Wheel Clearance Issues
D.I.Y Installing Coilovers
D.I.Y Making ITR MOMO airbag work
D.I.Y Tapping for Vacuum Lines
D.I.Y Changing Tail lights or Gaskets
D.I.Y Replacing/Pressing Motor Mount Bushings
D.I.Y Bleeding Clutch/Brake Systems yourself
D.I.Y Custom intake for K24 setup
D.I.Y Removing Shifter Cables
D.I.Y Relocating Clutch Reservoir
D.I.Y Replacing Clutch Master Cylinder
D.I.Y Clutch Line Tuck
D.I.Y How to Bore TB spacer
D.I.Y Clutch Master Cylinder Removal
D.I.Y Custom Fuel Pressure Regulator Bracket
D.I.Y Removing Back Seat
D.I.Y Red Line Shift boot with Stock Collar
D.I.Y Making Your Own Paper Gaskets
D.I.Y Modifying Beaks Bar to fit Progress Brace
D.I.Y Shaving your throttle body
D.I.Y Throttle Cable Bracket
D.I.Y Removing Air Pocket from Cooling system
D.I.Y My throttle cables
D.I.Y Engine Swap VIDEO!
D.I.Y Compression Testing
D.I.Y ASPEC front lip instal
D.I.Y Rear Wiper Delete and Plug
D.I.Y JMercado Bracket for Supechargers
D.I.Y Fog Light Instal 05+
D.I.Y Fuel Pump Upgrade no Return Line
D.I.Y Fuel Return Setup
D.I.Y Fuel Line Tuck with aftermarket rail
D.I.Y Push Button Start with Harness
D.I.Y More Air to CAI 05+
D.I.Y Painting A-Pillars
D.I.Y A-SPEC front lip
D.I.Y Inner Rim cleaning and Painting
D.I.Y Battery Relocation
D.I.Y JDM Type-R Pedal Instal
D.I.Y Recaro Door Inserts
D.I.Y Valve Lash Adjustments
D.I.Y EP3 Steering Wheel Swap
D.I.Y P-Spec Short Throw Shifter
D.I.Y Hood Dampers
D.I.Y License Plate Relocation Bracket
D.I.Y Electronic Power Steering
D.I.Y Fender Rolling
D.I.Y Harness bars, cusco bars, harnesses
D.I.Y Simple bay painting and cleaning
D.I.Y Honda Key Conversion
D.I.Y Jmercado PS Neck Solution
Collection of My Videos!
Fall is Here, Full video of car!
http://www.youtube.com/watch?v=mv1Qp5tPc-4
Part 1 Removing the Subframe and Transmission
http://www.youtube.com/watch?v=6oIssf4El5w
Part 2 of the series is Removal of supercharger and Engine
http://www.youtube.com/watch?v=U_fRMhljlxk
Part 3 of the series is swapping parts and cleaning to prepare for instal
http://www.youtube.com/watch?v=Ede9u99KToo
Part 4 learning to instal a flywheel, clutch and pressure plate
http://www.youtube.com/watch?v=rRbms5iiMqM
Part 5 Installing engine and transmission
http://www.youtube.com/watch?v=cPQImsbD30E
Part 6 I put my supercharger back on
http://www.youtube.com/watch?v=90U6Me8VLRo
Part 7 Installing the subframe on your own
http://www.youtube.com/watch?v=bQj-qhsb2Yg
Part 8 sway bar, header and Valve Cover instal
http://www.youtube.com/watch?v=-oUjrCTnnUo
Part 9 fluids
http://www.youtube.com/watch?v=qo1SxPNG53g
FIRST START UP!
http://www.youtube.com/watch?v=HnStXXLlNNY
Practice Video Gone Wrong
http://www.youtube.com/watch?v=G1K8QxcstbM
Fall of my k20 DC5
http://www.youtube.com/watch?v=Ht9BIjuRGVY
Rise of my k24 DC5
http://www.youtube.com/watch?v=wc-6F-_4wto
Random K24 Dyno Pull
http://www.youtube.com/watch?v=plydKJicyUg
Supercharger Installed and Dyno!
http://www.youtube.com/watch?v=TQD3BKjOnho
My car at the track
http://www.youtube.com/watch?v=_PJ5rp1Hak4
Here is a link to my youtube channel :thumbsup:
http://www.youtube.com/user/zzfunk13?feature=mhum
Also I started using my AOL AIM again so if you want to chat and talk about swaps, DIYs, need help, or just chat my screen name is
zzfunk13
It helps me cause I get soo many PM's..