Discussion Starter
•
#1
•
I recently purchased the tein advance Z coilovers as well as tein pillowball upper mounts so that I can adjust the camber once it's lowered a bit.
I received a call from the shop and they are confused because there is no bushing/rubber bumper included to keep the pillow bolt plate from being metal on metal with the coilover.
I called tein because according to the picture of the coilover I thought it came with said piece but supposedly the Advance Z coilovers do not.
I know that the advance Z is originally designed to use the OEM rubber bumper and top hat but after reading about people using pillowball mounts I thought that it was a possible upgrade that will fit these coilovers.
The piece that I seem to be missing is the piece furthest to the right past the coilover. It looks like a silver round spacer plate like thing in this product picture.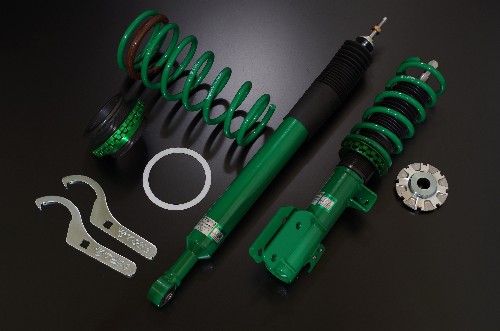 So questions are: 1) Can I actually use Tein Pillowball upper mounts with Tein Advance Z coilovers and if so it seems I'm missing a crucial piece.
2) if the pillowball mounts reall don't work with the advance Z (which seems crazy that something with such an almost identical design to their other coilovers for the rsx) is there a camber plate that I can get for the fronts that work or am I stuck with the less reliable camber bolts that you can buy.
3)if I'm stuck with OEM top hats my shop was saying that the springs on the original shock are much larger diameter and that the oem rubber bumper ring that sits between the top hat and spring would not stay on the new tein Springs because they are much smaller and it would just fall down around it. So how/what do I do to install these coilovers without the new pillowball mounts.
Thanks it's a lot of explaining but there's no one I can find who's had these problems and I'm no expert. Plus I can't have my car just sitting in a shop for days upon days. Hoping to get answers ASAP.