hey guys, well frankly i've become tired of those threads asking "do i have the correct harness?" so i thought i'd help out by creating a thread that encompasses all of the different varieties of harnesses out there. this will have to be a combined effort as i will need pictures of your harnesses (for those of you that have working harnesses) and also the name of the ebay seller. as of now i only have pictures of Trendgear's harness. so if any of you have any pictures of your harnesses, post them up. hopefully this will end all of those threads.
LINK TO EBAY HARNESS PROBLEM FIX:
http://forums.clubrsx.com/showthread.php?t=584514
Big thanks to iShift_6 and madru17 for pics
TRENDGEAR'S HARNESS
this is what trendgear's harness looks like:
this is how trendgear's harness is plugged in:
in order for this harness to work, the white plug around the red wire must be broken off. use tape or heat shrink tubing to secure the plugless red wire to the hanging brown connector. the green plug connects to the switch.
here is their switch: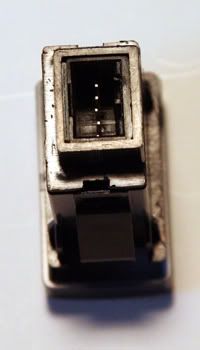 if you would like to use the OEM switch with this harness, here is my DIY:
http://forums.clubrsx.com/showthread.php?t=469745
MOTORBLVD'S HARNESS
ATOMIC STREET'S HARNESS
this is what atomicstreet's harness looks like:
now take a look at this pic again:
these are the connectors that go inside the fuse box: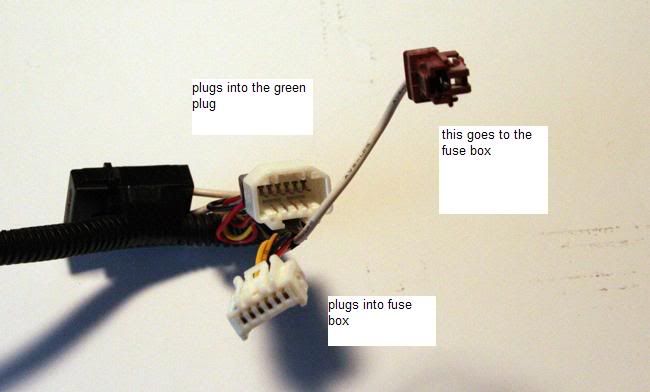 for the 2 on the left, listen carefully. refer back to the pic of the fuse box. do you see where the arrow starts? there will be a green plug there. remove that, and then follow the directions on my picture. you will plug the white female part into the fuse box, and connect the white male part to the green plug.
this is the plug that will connect to the hanging brown connector:
and this is the plug for their switch:
this is their switch:
the OEM switch will plug and play with this harness
]