Well fellas, i dont have many posts here. i havent been the owner of a honda/acura for longer than 5 months and its already time to make some ponies.
my story: i come from the subaru community. i've owned various wrx's. sti's, and sti swapped wrx's. i simply love the cars! they're amazing. however just over a year ago i had been time attacking a mountain road alone at 3:00am (on my way to work) and i went a little out of control and sent the car down a 150 foot cliff. completely ruined the car. the funny part is, this isnt the first time this has happened (by now you're probably thinking im an idiot and i agree with you :fistbump
anyways, i was very sad to see my very expensive and fully built sti completely trashed. my mom was there to assure me i'd never own another fast car again in my life. man i was upset! but i understand her worries about my safety as this was not the first time i had awoken upside down at the bottom of a cliff. she knew i built high horsepower cars and knew it could happen again. anyways, check out the pictures!!
(only damage to me was the black eye)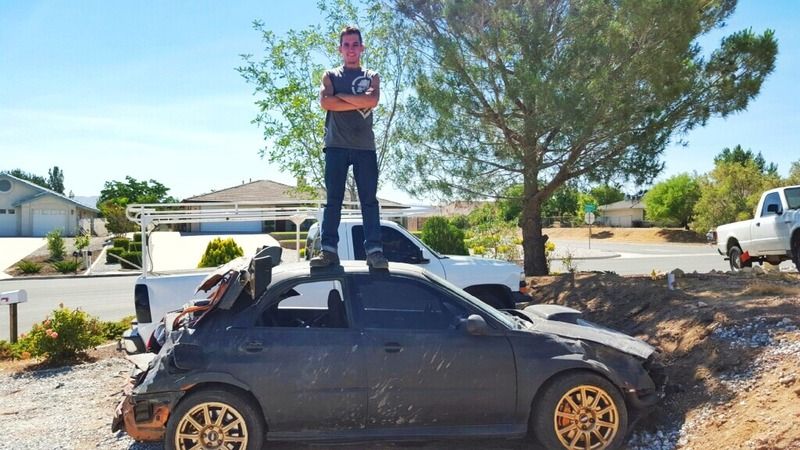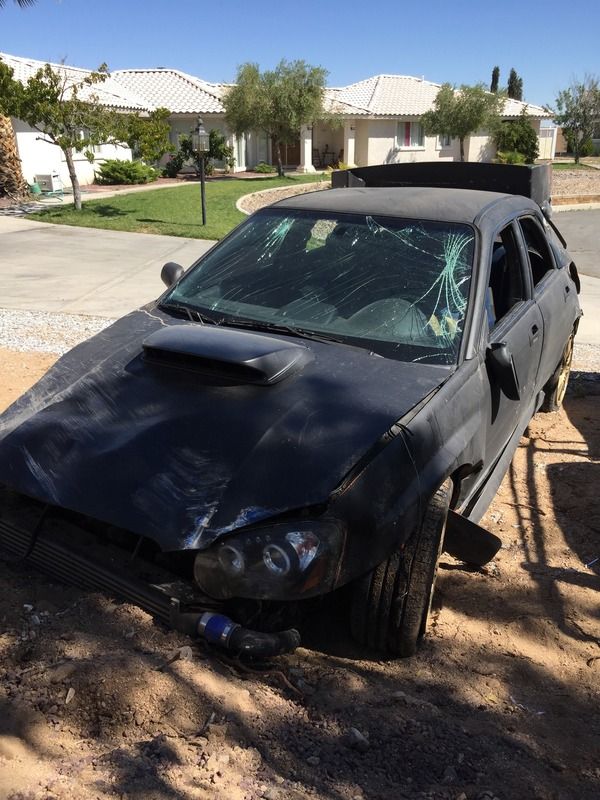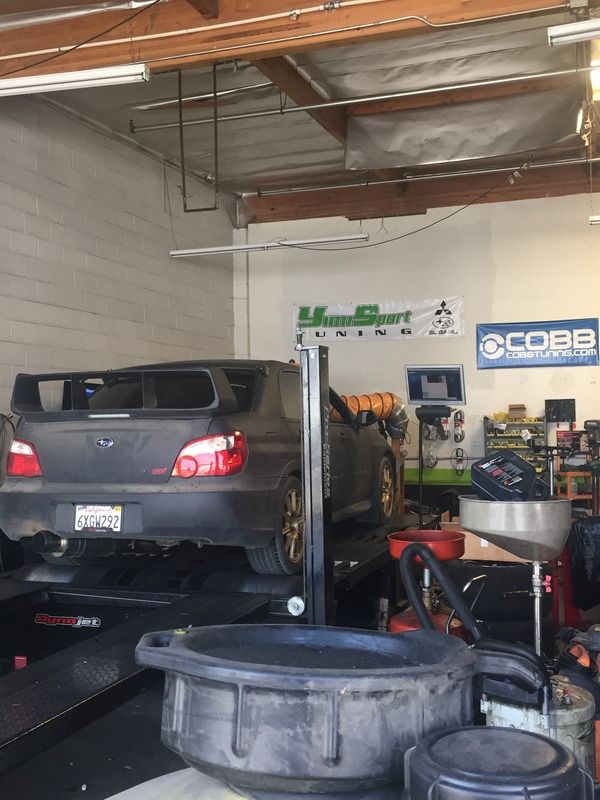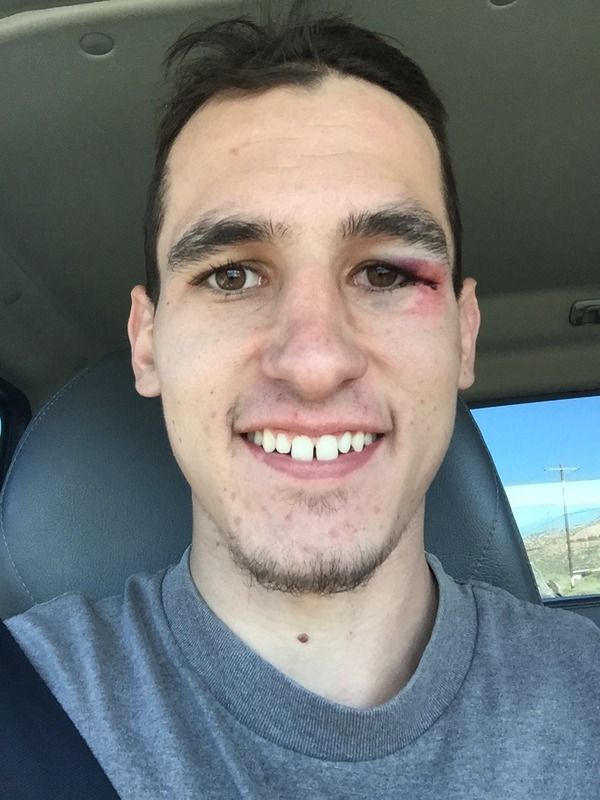 so after buying an f-150 and driving that and my dirtbike around for about a year, i needed something with some speed. i have a massive paxton centrifugal blower but the ole ford wasnt gonna take the boost. i knew i needed something that wouldnt appear fast to mom so i picked up the ole 2003 RSX-S! it had an intake when i bought it but thats it. for a month or so i enjoyed the good fuel mileage and very loud v-tec sound. but it was still dog slow. came across a JRSC kit for $1,700 so of course i needed it! picked up a race header and Kpro and went to town! it made 320whp on the stock catback!! it was a race header to a stock 2002 catback to keep it factory quiet so mom didnt know it was becoming fast. the new turbo setup will utilize a stock type-r exhaust but with a boost activated cutout at 5psi or so at the header.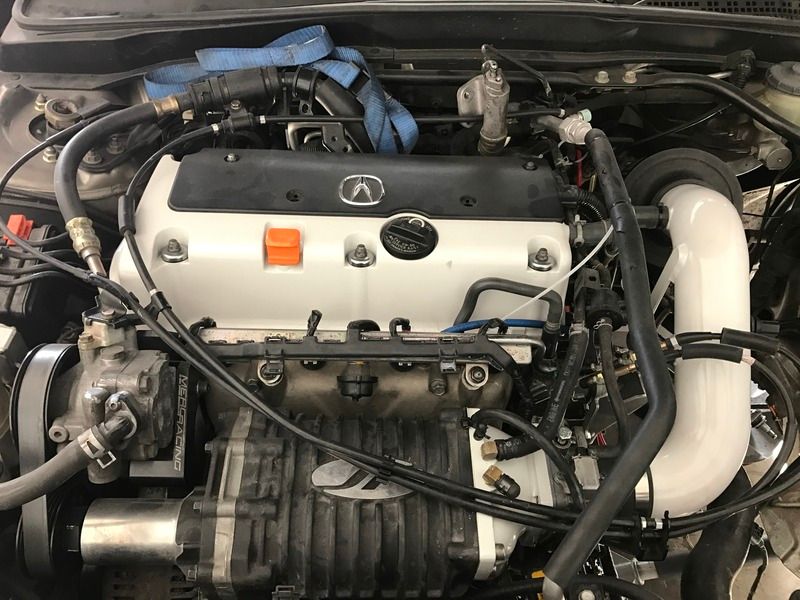 well after a week or two of fun supercharged times, the clutch died. so i pulled it for a pucked clutch setup from clutch masters. while it was out, i tossed a new gear set in the tranny and an LSD for obvious reasons. she ran great! but one day while scooting around with a friend who is new to fast cars, it suddenly felt like it lost 50hp during a pull. sure as shit! pulled it apart and it melted a piston.
it is still unsure if it was related to too much timing or not enough fuel. or a mixture of both. being that i did not have an intercooler or aftercooler and was running 13psi, i believe more fuel would have cooled it a little more and possibly not melted the piston. However im not the best tuner in the world and i also cant lay the blame on my tuner and ask for a refund or help to repair the engine.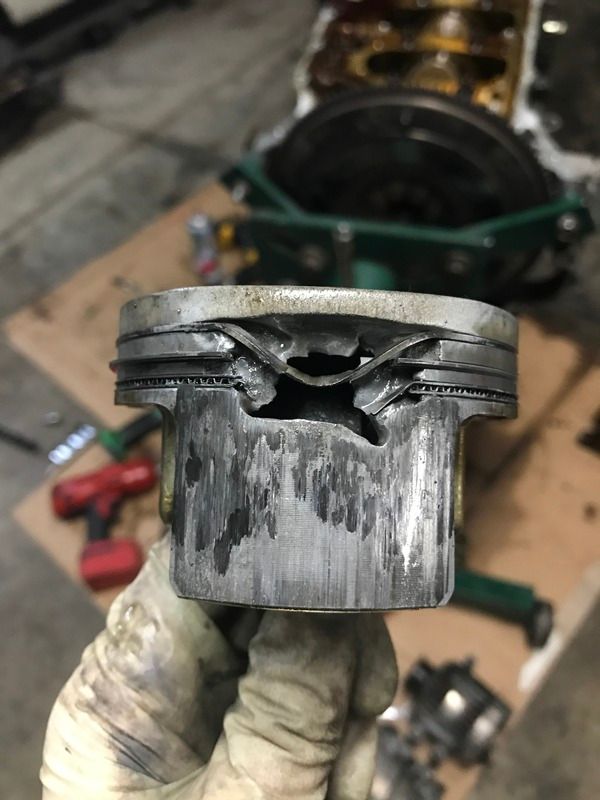 so by now it was clear i needed a new motor or to rebuild this one. the initial plan was to rebuild this one stock and go have more fun. then i thought of a k24, but ultimately decided on building the k20a2 and going turbo.
i didnt plan on going this in depth with the build and i definitely could have sleeved it but i decided to stay on stock sleeves as i dont plan to exceed 600whp with this car (for now :noes
as of now i have the following parts and machine work done:
- Golden eagle super seal head gasket (86.5mm)
- golden eagle vacuum block
- golden eagle oil cap
- eagle H beam rods
- king main and rod bearings
- ACL thrust bearings
- wiseco pistons (.5 over)
- ARP head studs
- innovative full billet mount kit
- torque plate hone by GE
- step deck by GE
- hondata thermal gaskets
- still on the kpro but will upgrade to V4 for flex fuel
- skunk 2 fuel rail
- grams 320LPH fuel pump
things on the to get list:
- twin disc clutch (still unsure on which one to get)
- grams 1150 E85 compatible injectors
- RBC manifold/adapter
- full turbo kit
- possibly PPG 1-4 gear set
- springs/retainers
- cams
- fuel lines, AN's, and FPR to complete fuel return setup
- whatever else im forgetting. i know theres more.
progress so far:
the engine is almost a complete short block. i made great progress in 3 days as i didnt have a single part for the build or any machine work at that time!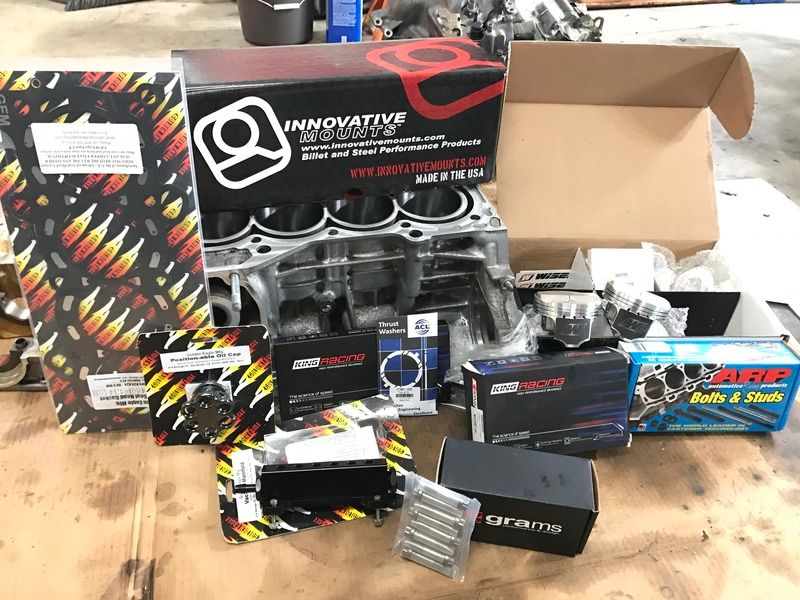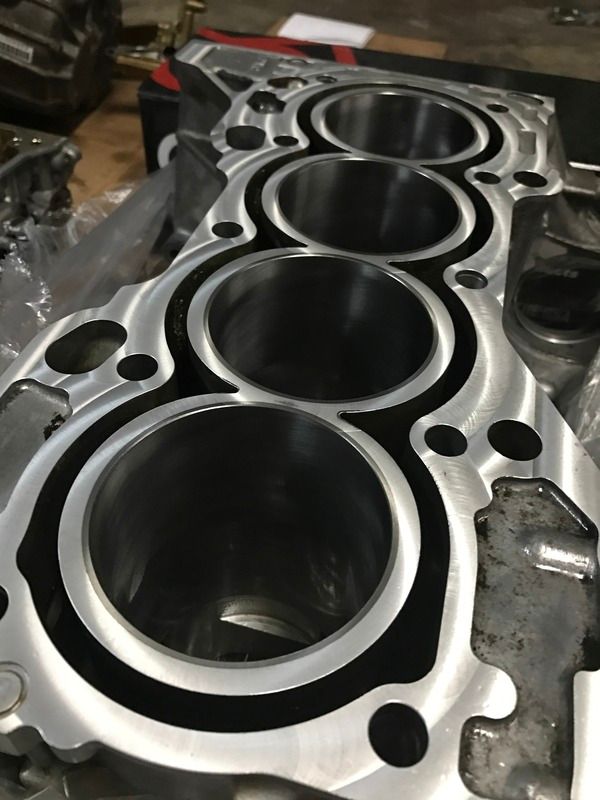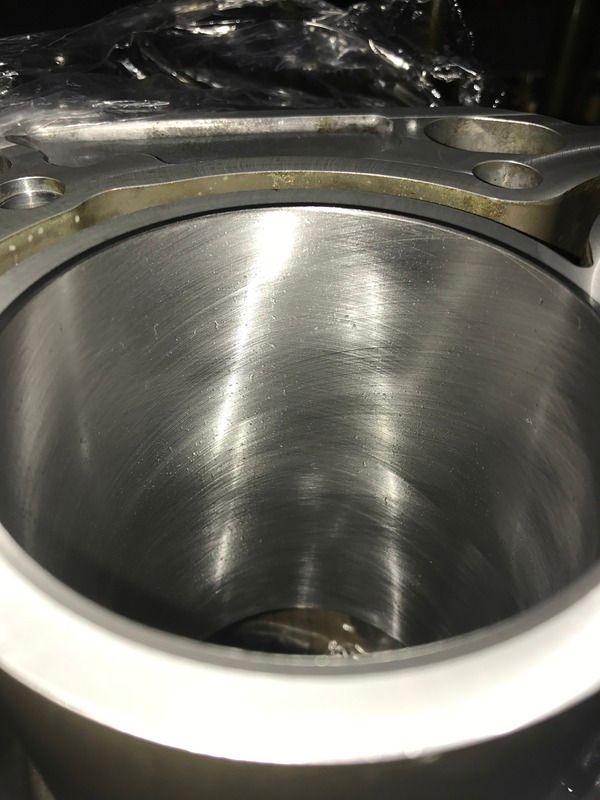 pictures will be updated as progress happens. a lot happened in the past 3 days but the project will be on hold for just a little while as i need to rebuild two dirtbikes and work! But things are always happening for the car! i never forget about the go fast builds! any input, opinions, or suggestions are welcome!