·
Meth Blow Speed = my life
Alright I am going to put ALL of the information on one central page for every to have easy access to the information.
****Why Methanol?****
For those of you wondering what all the talk is about methanol injection well heres your answer (or the best I can give). Methanol is a higher octane compound than gasoline which is an easy way of saying it is a slower burning chemical which aids in the reduction of knock. Similar to gasoline methanol is VERY flammable so it is dangerous to keep in a pure form in your car. Due to this, it is very common (and actually recommended) to mix the methanol with distilled water. Doing so will lower the methanol's ability to vaporize in your car and explode (which is a good thing) ON TOP of offering a very useful cooling source. For those of us with superchargers and no cooling, methanol has been used as early as 9psi to prevent knock during some hard driving on a hot day (for those of you with aftercoolers, I'll get to that later).
Another benefit to using methanol injection is the "steam cleaning" it will do to your manifold and motor. As the water vaporizes into steam (this is how it removes heat from combustion), the steam will remove carbon build up on various parts it touches. After a year of using methanol, I removed the blower and noticed that all of the carbon buildup on the intake manifold had been either removed or partially cleaned.
So in other words, methanol is used in collaboration with distilled water to slow the burn of combustion, cool the combustion process in order to prevent knock and increase engine safety, open up the possibility for more power, and clean off some carbon debris as an added bonus.
Here is a post by Razathorn about Methanol which pretty much sums it all up...
As one of (if not the, I don't really recall for sure) the first supercharged guys to do water/methanol a few years back, my setup has basically "just worked" for a long while now. Now that I've moved to 11 pounds w/ 06 tsx cam in 100+ degree heat, I find myself needing to make adjustments to keep the detonation fairy and her pings of doom from claiming my 75k oem motor. For a while, off and on, I've dropped little nuggets of explanation in chat threads and random threads -- but I haven't really created a technical resource for those who really want hard info on what is going on behind the scene. This thread aims to fill that void, confuse some of you, and enlighten (hopefully) the rest of you that want to understand things better. If you get confused, ASK questions -- you won't be the only one, and hopefully we can turn this thread into something really useful for others.
First, before we start, we need to get vocabulary out of the way. Without knowing the following terms, you won't get very far here.
* Air/Fuel Ratio
An air/fuel ratio describes how many parts of air and fuel are present during combustion.
* Stoich
Stoich comes from stoichiometry. Stoich, for our purposes, describes the condition where combustion of the air/fuel mixture leaves no remaining oxygen or fuel. I sometimes refer to it as perfect combustion, but don't confuse that with being what you should want at all engine operating conditions.
* Stoich Point
A ratio that defines how many parts fuel to oxygen you need for stoich mixture. The Stoich point of gasoline is 14.7:1, or 14.7 parts oxygen to one part fuel. The stoich point of methanol is 6.4:1.
* Lambda
Loosely defined for our goals, it describes, via a percentage, how much fuel or oxygen was needed for stoich combustion. A lambda value of 1 is stoich. A lambda value of .85 means 85% of your fuel was burned, and 15% of it was left over. A lambda value of 1.15 means 15% of your oxygen was not used, and 85% of it was.
* Lean/Rich
Lean describes a condition when too little fuel is present in your combustion event to be stoich. Rich describes a condition when too much fuel is present in your combustion event to be stoich. A rich mixture has a lambda less than 1.0, a lean mixture has a lambda greater than 1.0. Rich/lean is also used to describe having too much or too little fuel in relation to what is desired, not just in relation to stoich. For instance, even though 14.7:1 is stoich for gasoline combustion, and by definition is not lean, it is far too lean for wide open throttle to be safe, and should be richer.
* Methanol
Methanol is a simple alcohol with a stoich point of 6.4:1. It melts/freezes at -98C and has an octane rating of around 120. It has a relatively low flash point, so mixing with water, in addition to adding more cooling benefit to your water/methanol mixture, adds safety by increasing its flash point.
* Knock
An engine noise -- not good. Knock generally falls into two categories: spark knock (detonation) and rod knock (or other physical problem with the motor that makes you tear it down).
* Detonation
Detonation is far less harmful than it sounds, but leads to things more dastardly such as pre-ignition or engine damage if left unchecked, especially if the detonation is severe or the engine is already operating near it's physical limits. Detonation is an event that happens AFTER normal ignition of the compressed air/fuel ratio as the cylinder is moving down on the power stroke. Detonation occurs when the air/fuel mixture transitions from burning (granted, very fast) to exploding (hence the word detonation). Ideally, the air/fuel mixture should burn across the time when the piston is moving down on the power stroke. If for some reason the mixture cannot sustain normal combustion under the heat/pressure it is being exposed to, and explodes, this is called detonation. It delivers a large amount of force to the piston very quickly for a very short period of time producing an audible sound referred to as a "ping", and hence "pinging" is another term to describe a motor that is detonating. It heats up the combustion chamber quickly. Normally, when you encounter detonation, it is near the end of the normal combustion event. This is especially true for detonation you encounter from running too much ignition timing -- you can literally think of this as the burn beating the piston. Denser mixtures burn faster -- that's why more boost dictates less ignition timing. Detonation can be caused by too much ignition timing, too little octane, too hot of intake temperatures, or too lean of a mixture.
* Pre-Ignition
Pre-ignition almost always leads to detonation, but... pre-ignition also has a terrible habit of destroying motors. Pre-ignition is when the air/fuel mixture is ignited BEFORE the normal ignition point (dictated by ignition timing) by means other than the spark plug firing. Pre-ignition causes the piston to compress an expanding mixture, which causes a huge strain over a long period of time compared to detonation (which happens quickly and is over). The mixture usually detonates when pre-ignited. Potential ignition sources could be an overly hot combustion chamber, glowing carbon embers, a glowing spark plug, and any other residual heat in the combustion chamber that shouldn't be there. The problem with pre-ignition is you simply don't know if the detonation you are hearing is from pre-ignition until your motor blows. Rest assured, most detonation encountered is not from pre-ignition -- however, if your motor detonates enough, it could raise the combustion chambers so much that your engine pre-ignites, which tends to put the piston on the ground, and we all know that isn't where it goes, now is it! That is why you address detonation, in addition to the fact that severe detonation can damage the motor as well.
* Octane
Octane is a rating used to describe a fuels resistance to detonation. It is also a compound, but we don't care about that.
* Ignition Timing
The point at which the spark plug fires before top dead center on the compression stroke to ignite the air/fuel mixture. More ignition means you ignite the mixture sooner. The idea is to expose the power stroke (piston moving down) to as much of the force of combustion as possible while not detonating and not compressing an expanding mixture by starting the burn too soon. Ideally, you start the burn while still compressing the mixture because it takes some time to burn. If you have a high enough octane fuel, you can actually run too much ignition timing and compress an expanding mixture -- this puts enormous stress on your rods and rod bearings and is akin to mini pre-ignition. You CAN over-advance the motor with water/methanol. Don't advance ignition timing without being on the dyno to see if it adds more power. If it doesn't add power, take it out, it's just adding stress. Ideally, you should be just below peak power ignition for a long lasting boosted motor tune.
* Latent Heat
Latent heat, for our purposes, describes the amount of heat absorbed by a liquid as it changes matter states to a gas when vaporized.
Believe it or not, this is the actual start of this post. Don't like it? Too bad! Man up!
Why do we run rich?
This is something many folks take for granted -- you run rich, or fuel enriched, under load. More so for boost, less for n/a, but not at all for cruise. Why? It's simple. We don't want our motors to blow up. Why would it blow up? Because it gets hot in there damn it! Running rich means there is extra fuel left over that didn't get burned. This fuel absorbs heat. This keeps the engine from being damaged. At cruise (in vacuum), the power produced by the engine is tiny -- you don't need to run richer than stoich to protect the motor, and catalytic converters need stoich combustion exhaust to work correctly.
How exactly does fuel cool the combustion event?
The unburned fuel is vaporized (evaporated) -- it changes from a liquid to a gas. This change in matter state, from a liquid to a gas, takes heat with it. Think of when you sweat -- liquid exits your pores, wind blows across your skin, the sweat evaporates, and your arm gets cooler. The problem with blindly adding fuel to cool down the combustion event is that it makes the air/fuel mixture richer... and after a while, it doesn't want to burn, and it stops making power (and other problems as well). The amount of heat absorbed by a liquid as it changes to a gas is described via its latent heat.
Enter methanol...
Methanol, an alcohol, is a fuel that your engine can burn. It takes more than twice as much methanol to make the same power as gasoline, which is directly related to it's stoich point being about half that of gasoline. It literally takes half as much oxygen to burn an equal mass of methanol as it does gasoline, and that directly represents it's energy potential. Ethanol is an alcohol also (om nom nom), and has a similarly low stoich point, and similarly lower power output, which is why e85 folks have to run huge fuel systems compared to gasoline folks. The good thing about methanol is that it has an octane rating of around 120, and cools about THREE TIMES as well as gasoline when vaporized in a rich mixture. I know that sounds wonderful, but just wait until we get to water. By adding a little bit of methanol, you can raise the octane of your mixture a decent amount, and any remaining fuel is partially methanol, and thus will remove more heat than if it was purely gasoline.
Enter water...
Water is a.... wait, we drink this stuff, it shoots out of our pores when we're hot... perhaps we could use this for cooling?! Indeed! Water removes TWICE as much heat as methanol, and OVER SIX TIMES the heat of gasoline. Want to know the really cool part? (Oh man, I sincerely apologize for that pun, it wasn't intentional, but now that I see it, I'm not removing it because it hurts sooo good.) What's really cool is that any water injected into the mixture does not burn. ALL of its heat removing goodness is left there to absorb heat, regardless of the air/fuel mixture you used.
The proper air/fuel ratio to run
First, understand that I'm about to use "air/fuel ratio" totally incorrectly here just because we're used to the gasoline air/fuel numbers. When you added the methanol, kmanager no longer reports the actual air/fuel ratio, but you can tune with the numbers just as if nothing has changed. You can run a much leaner air/fuel ratio now because the water removes 6 times as much heat as the fuel you were leaving behind, and the methanol will allow for a leaner mixture without detonation, and any remaining methanol will remove heat twice as well as the gasoline that remains as well. I generally tune for low to mid 12s on my car. I could go leaner. I don't. There's not much power leaner than low to mid 12s, so why risk it. Hell, just tuning n/a cars, 12.8 makes for practically peak power. Just to give you an idea how much cooling the water alone is providing, I'll calculate the air/fuel ratio you'd have to run with gasoline alone to compare to the heat removing properties of the water.
Latent heats in J/g
Water: 2257 J/g
Methanol: 1100 J/g
Gasoline: 350 J/g
Mass in Kg/m3
Water: 1000
Methanol: 737.22
Gasoline: 786.51
If you are running 1560cc of fuel to 390cc of spray at 50/50 mass, that means about 44% of your volume of 390cc is water. That leaves 172cc of water to remove heat. If you were running
a 11.7 air/fuel ratio gasoline only combustion event, it has 80% fuel burned, and 20% remaining (.8 lamda.) This leaves .2 * 1560 = 312cc of gasoline with the 650cc @ 60% duty example. Using the above charts you can see that water weighs 1 gram per cc (you should know this from school), and gasoline weighs .737 grams per cc. 172cc of water weighs 172 grams. 312cc of gasoline weighs 230 grams. This means the water removes 172 * 2257 = 388,204 joules, where as the gasoline removes 230 * 80,500 joules. The water removes 4.82 times as much heat as the gasoline.
This means that if you wanted to remove as much heat as running just the water alone, you'd have to have 4.82 times as much fuel left over. With the 650cc @ 60% duty @ 11.7 a/f example from above, that means that 1560 * .8 = 1248cc of fuel is consumed and 4.82 * 312cc = 1498cc would need to be left over. That would put your air/fuel ratio at 1248 / 2746 = .45 lambda or an air/fuel ratio of 6.62:1. Not only would that not run well, if even run at all, you would need 820cc injectors, or larger!
Conclusion
* Water cools best.
* Methanol increases octane.
* Extra octane from a higher methanol percentage comes at the expense of losing the heat removing properties of the water you replaced with methanol.
* Pick the mixture that works for your requirements.
* You can continue to tune with gasoline a/f as reported by kmanager.
* Pistons on ground = bad.
A Graph by speedengineer to demonstrate all this nonsense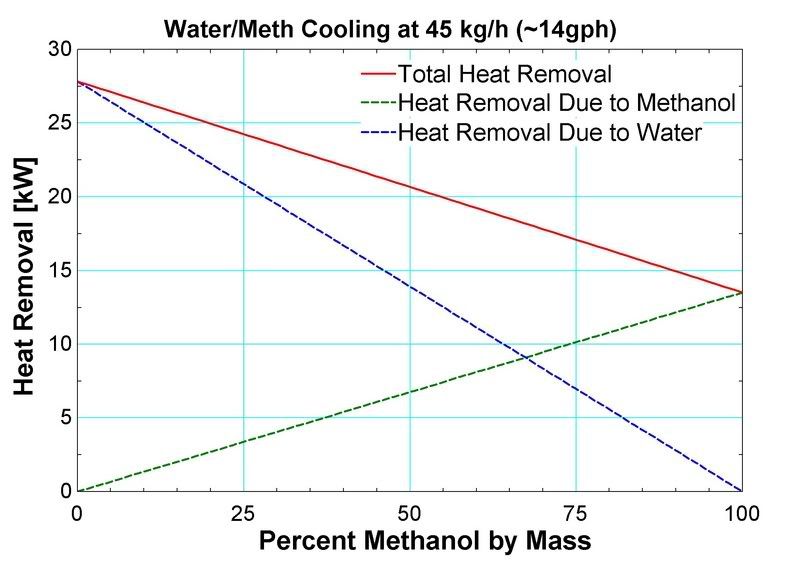 ****What kind of gains will I see from Methanol****
Lets get the FALSE facts out first. Methanol injection ALONE will net ZERO to MINIMAL gains in power. When you add methanol injection to your car, you NEED TO TUNE it to see gains. This means you will need to adjust fuel and ignition values to compensate for the different fuel you are injecting into your motor. Methanol injection alone will actually lower power in most cases. This is because when you inject more fuel into your motor, the Air/Fuel ratio will become very rich and suck power from the combustion.
Example:
No Methanol: I was tuned for an A/F ratio of 11.8:1
WITH Methanol and no tuning: A/F ratios went into the black hole of 11.5:1 and required removing almost 10% of fuel to reach my original ratio of 11.8:1 (10% is a specific number to my car, my concentration of methanol, and the size of my nozzle. Each persons fuel adjustments will be a little different)
So to answer the question at hand...the gains we (supercharged RSX's) have seen range from a 20-40whp and 10-20wtq gains throughout the entire pull WITH TUNING.
Results will vary depending on the application you are adding the methanol to, with more gains being seen at higher levels of boost.
Here are some of the dyno graphs from several users on the forums...
Some of the most comprehensive to date was done by Derek (D-Rob) at Innovative, Serg (RSXTwister), and myself (aka these are the only graphs I have...lol)
Derek's results (11psi Non aftercooled On vs. Off):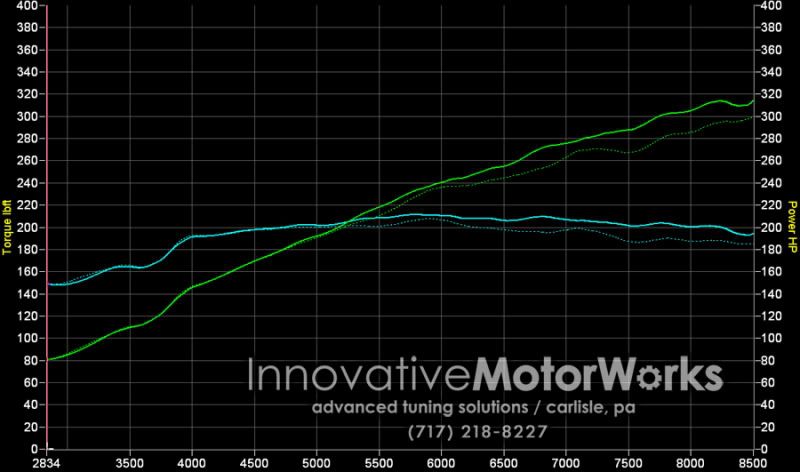 Serg's results (11psi aftercooled On vs. Off):
My results (11psi ALL pulls on meth): I was testing the power gain with different increases in ignition until it became unsafe.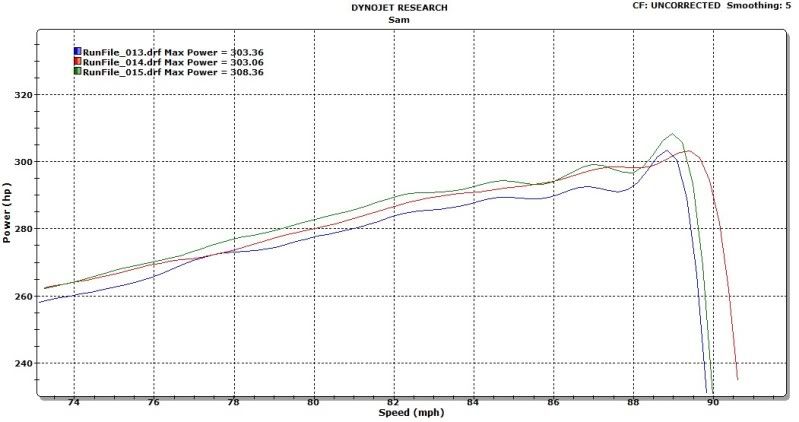 What Kit to Get?
***EDIT***
Please talk to Rodney at Alcohol Injection Systems (AIS) for the best kit for your setup.
Visit his site at
www.alcoholinjectionsystems.com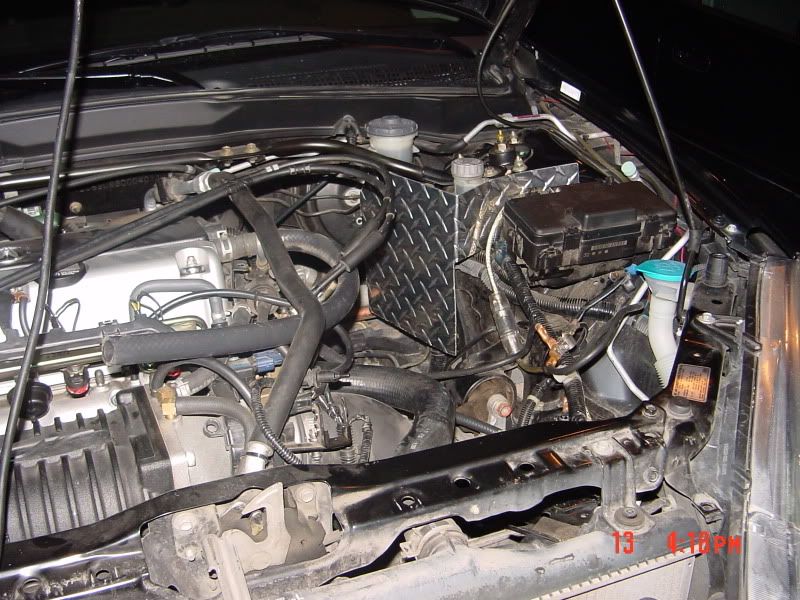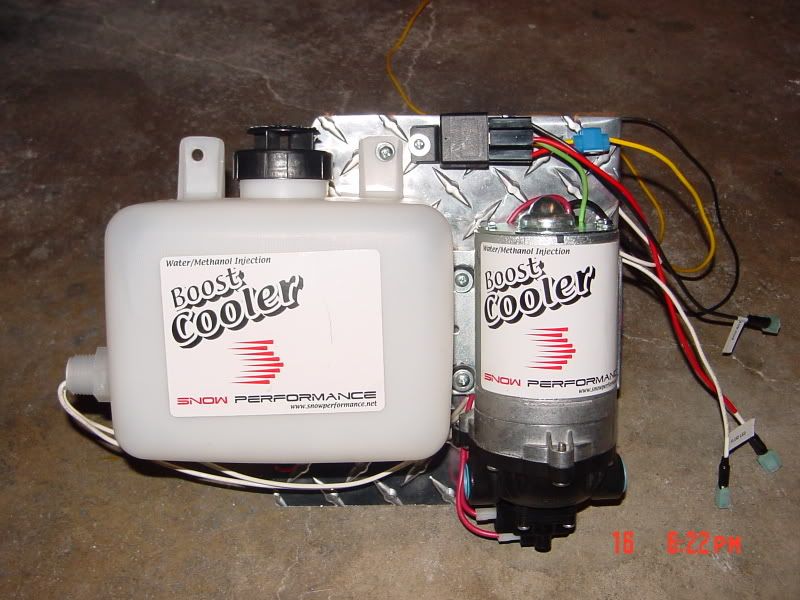 ****INSTALLATION****
OK...here is what most people have been waiting for. My install guide will be using the coolingmist kit.
First thing first...I went with a trunk mounted installation because my tank would not fit in the engine bay, and even if it did I still wouldn't put put it there due to heat soak of the contents. In order to mount the tank in the trunk you will need a few more things ($30 worth) from your local Lowes or Home Depot.
Things you need not included in the kit:
-1 strip of galvanized steel
-Hack saw or something similar to cut up the steel into useful pieces
-25ft of 150psi rated hose
-1/8th inch tap
-Power Drill with 11/32th's bit
-Metal Screws to screw the tank into the car (not sure what size they were...its been a while and there are other options on how to mount the tank with zipties if you want)
Things to remember during the install...
#1 You want the pump BELOW the tank so that it always pulls fluid
#2 You want the nozzle ABOVE the tank so that gravity wont pull fluid out of the nozzle
#3 You want the checkvalve in between the pump and the nozzle...you want the checkvalve as close to the nozzle as possible or you may experience a lab in meth spray leading to an occasional knock.
Lets start with the tank and the location of all the other major parts.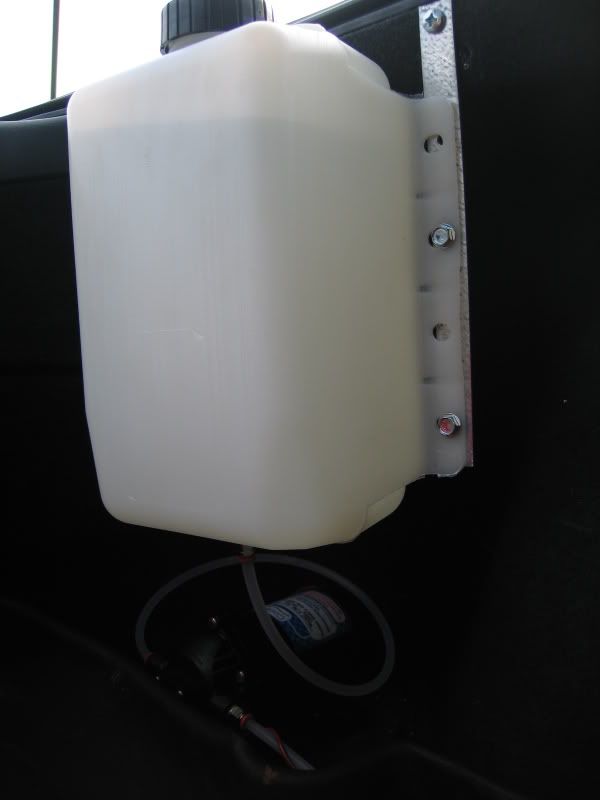 This is the mounting set I fabricated out of one strip of galvanized steel from Lowes. I simply cut it into two pieces and screwed the tank onto the two strips. Then I screwed the metal strips to the metal behind the lining of the trunk. This allowed for the pump to be located right underneath the tank which is whats needed for this type of pump.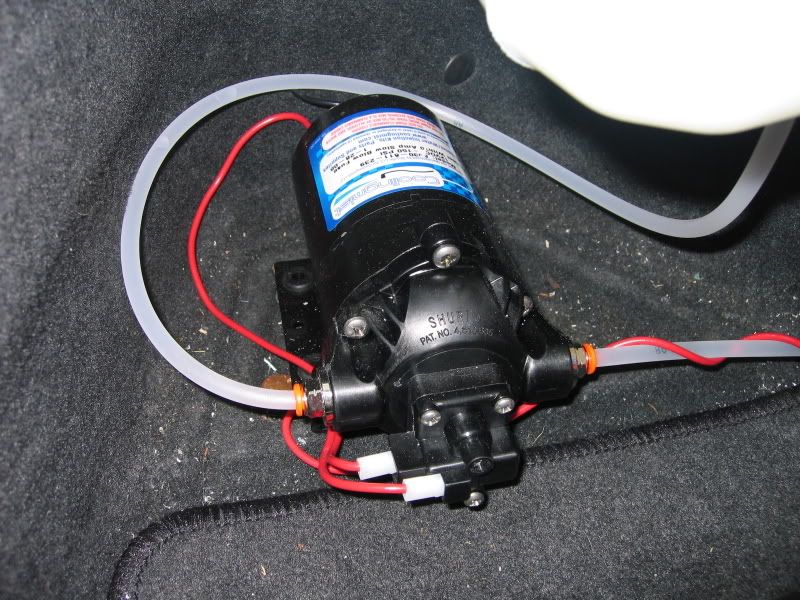 The pump simply sits underneath the tank. I currently do not have anything holding it down to the floor but it has rubber pegs on it that hold it to the carpet pretty good for now and I usually have my toolbox next to it which will also hold it in the area. As of a year and a half now, the pump has not moved so mounting it to the floor is not really NECESSARY...but if you want to...go ahead.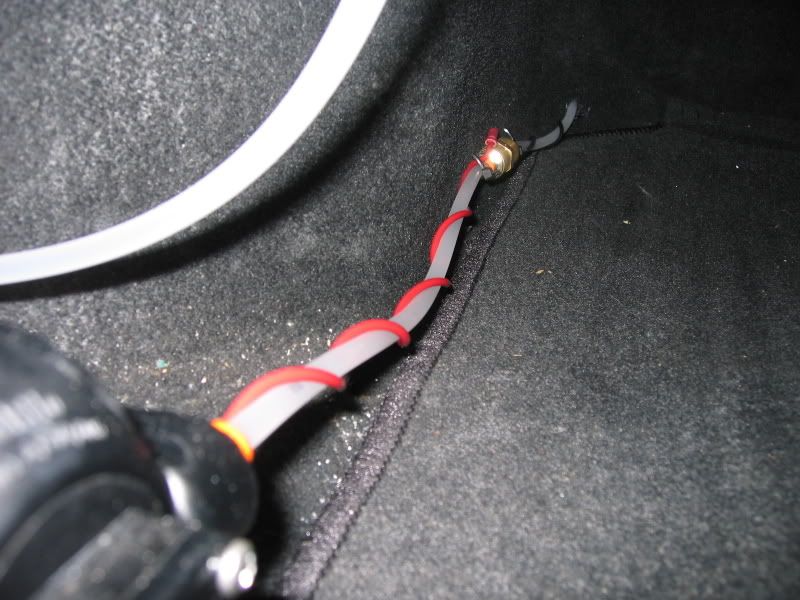 The hose I purchased was from Lowes as well. It was rated to 150psi and cost $1.70 for 25ft.
**DO NOT USE RUBBER HOSE!! THE METHANOL WILL EAT THROUGH IT***
I ran this hose and the connecting wires to the pump down the side of the trunk where it connected to the checkvalve (The brass part you see down the side of the trunk). After the checkvalve the hose and wires went behind the side panel and along the side of the door under the plastic strip that runs the length of the door. From there the hose moves up under the steering wheel and out of the grommet that has the blue wire coming out into the engine bay.
Hose and wires going under steering wheel
***IMPORTANT***
People have run into issues with the frame of the car cutting into your meth lines if you push your hose through here. You can either pad the sides of this grommet to prevent this or try to find another way into the engine bay.
Hose leaving cabin into engine bay
Hose and power supply for pump entering engine bay
Hose connected nozzle on the intake. I had to purchase a 1/8th inch tap for this but if you have one laying around do that. 6 inches from the throttle body is where you want to install the nozzle. First you drill the intake with an 11/32th's bit then tap it with the 1/8th inch tap.
Wiring...
This is where it gets a little complicated. Lets get the big picture first. The idea here is that we want a connection from the battery to the pump. This connection will be controlled with a relay that is controlled by K-pro. So when the ECU determines that the conditions are right, the ECU will send a signal to the Relay which will allow the connection between the battery and the pump to complete....and SPRAY!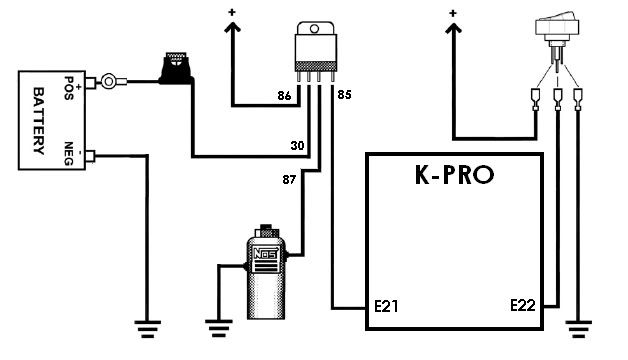 In this image you need to swap out the nitrous tank for our pumps. If you follow the wire going from the battery to the relay (wire 30 on the relay) you will see a black "thing" in between the relay and the battery, I believe this is a fuse but this is not needed.
The 30 wire goes from the battery to the relay and wire 87 goes from the relay to the pump (nitrous tank). This is the power connection I am talking about that the relay is controlling. When K-pro sends the signal through wire 85, the relay will close and allow power to go from the battery (wire 30) to the pump (wire 87), thus turning the pump on and spraying meth.
USE THIS PICTURE FOR THE NEXT PART. It will tell you which wire to connect to K-pro.
E21 connects to the 85 wire on the relay. This is the signal wire that sends the signal to the relay to finish/cut the connection between the pump and the battery (aka, this sends the signal on whether to spray or not).
E22 connects to your switch. This switch is there to allow you to turn off the meth system if your tank is empty. You may ask...why do that? Say you were driving around and you knew your tank was low but you still wanted to drive hard or race someone...you can turn the meth system off and K-pro will only use your original calibration (the one you've been running off methanol) that is lower in ignition and richer in fuel. When you refill your tank you can flip the switch to "on" and when you got WOT K-pro will increase ignition and remove fuel for the methanol.
***ATTENTION*** When connecting the relay and switch to the ECU, DO NOT tap onto the wire. In other words, do not simply remove the plastic cover on the wire going to the ECU and solder your switch or relay to it. You need to physically CUT the wire coming from the ECU and directly solder your switch or relay to the ECU.
You can ground the pump anywhere in the trunk area to a bolt that connects to the frame
You can ground your switch here...
For the relay you need to use a 12v source for your power and ground. I used the cig lighter (A/C adapter) as a source for 12v power and ground.
I will warn you, it turns into a cluster of wires VERY fast so dont get frustrated...just follow the wires.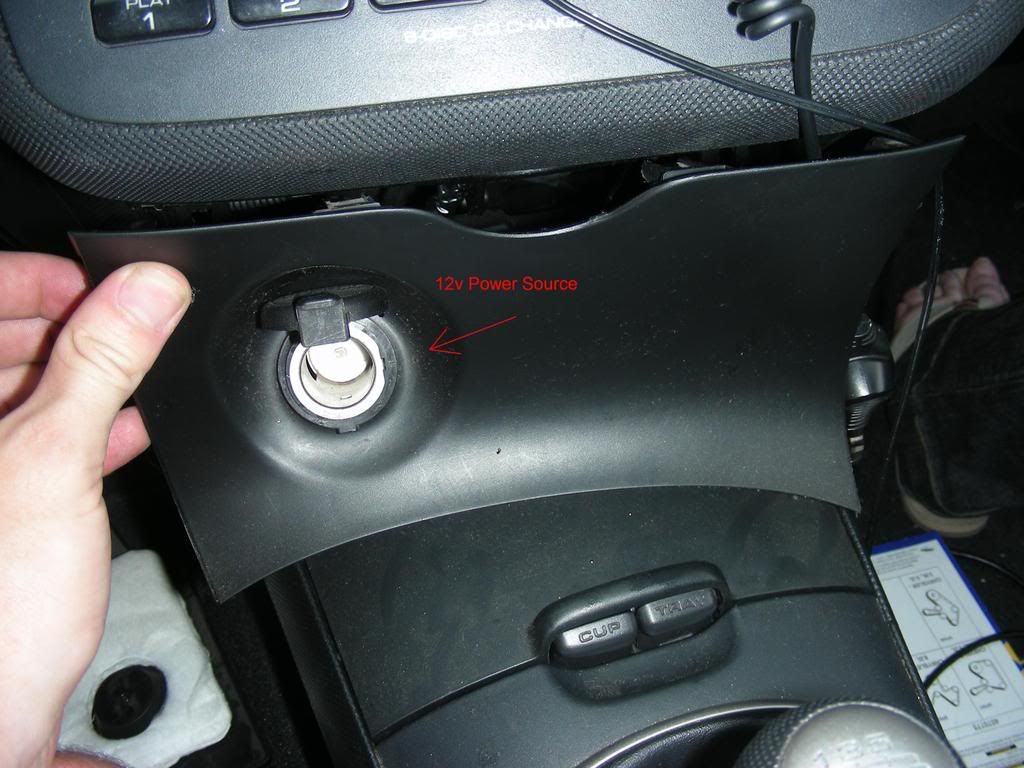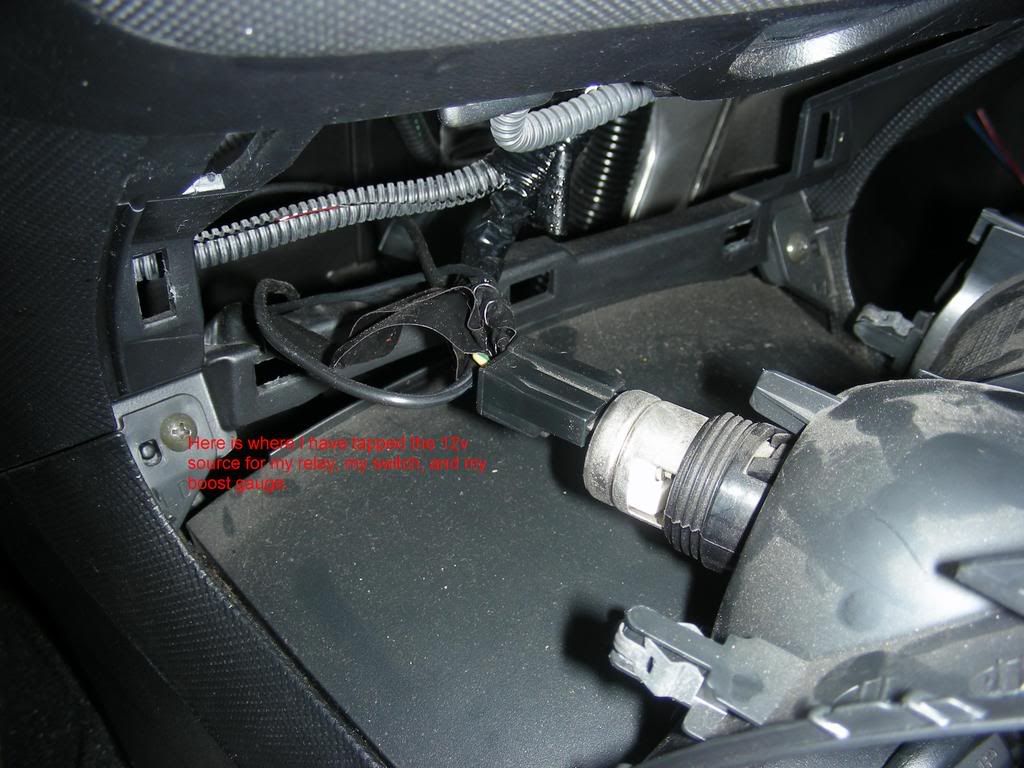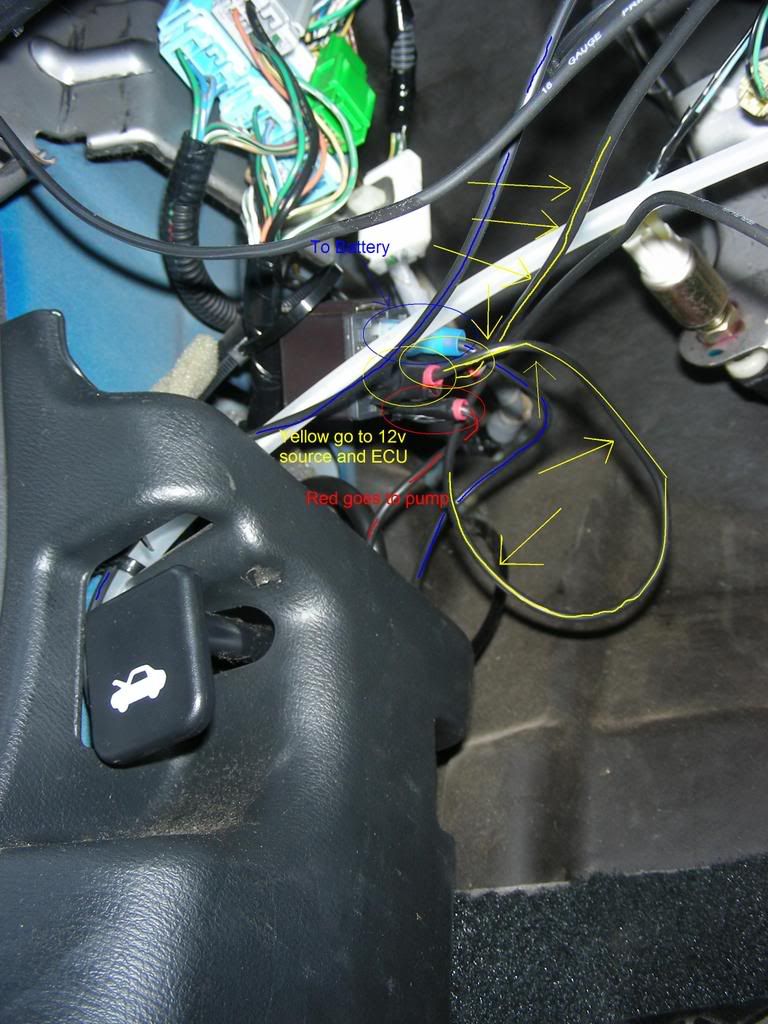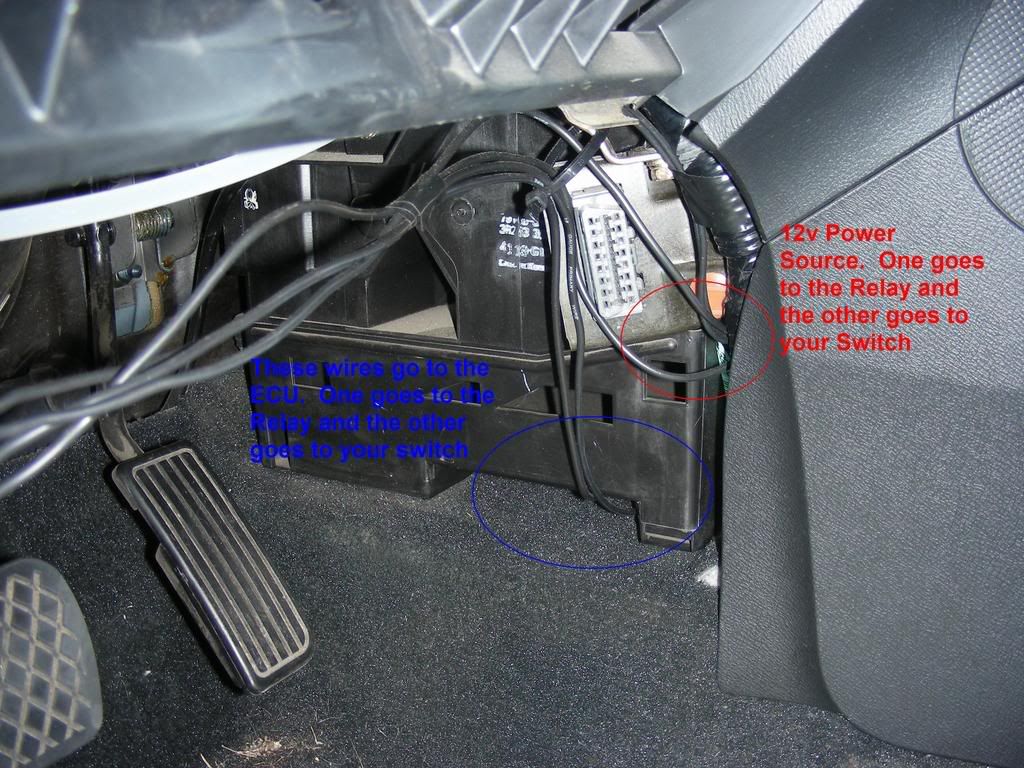 My arming switch
Took a while to get the bitch to fit but it worked out. All switches are different but I just used a drill and a knife and cut out a hole that would fit the bottom side of the switch. You will need a 12v source, a ground, and the signal wire that goes from the switch to the ECU Pin #E22
Continued on my Next Post...